MYSTERY BAY STATE PARK
MYSTERY BAY STATE PARK
10541 Flagler Road
Nordland, Washington   98358
This 10-acre marine park is reachable by car or boat. The park features 685 feet of saltwater shoreline on Mystery Bay and offers a spectacular view of the Olympic Mountains. This 10-acre marine park features 685 feet of saltwater shoreline and offers a spectacular view of the Olympic Mountains. This park is of primary interest to boaters, although it is reachable by car or boat.

Park hours/updates:

The park is open year round for day use only.

Summer: 6:30 a.m. to 10 p.m.Winter: 8 a.m. to 5 p.m.
Wildlife Mammals Birds Fish & Sea Life? Deer or Elk? Otters? Rabbits? Doves or Pigeons? Eagles? Gulls? Wrens? Clams? Crabs? Oysters? Sea Birds? Seals? Shellfish? Starfish? Perch

Environmental Features Physical Features Plant Life ? Cedar? Douglas Fir? Berries? Seaweed
The name "Mystery Bay" derives from smuggling activity on the island during Prohibition days. Transporting booze from Canada was a profitable and somewhat honored occupation in the remote waters of northwest Washington. Sequestered between Marrowstone and Indian Islands, Kilisut Harbor was one refuge used by smugglers to evade Coast Guard vessels. Smugglers' boats were easily hidden in the overhanging trees at a small bay near the end of the harbor. Smugglers' regular disappearance here was categorized by the Coast Guard as "mysterious," hence the name of the bay.
Available in the area ? Boat rental? Camping? Gifts? Groceries? Overnight Accommodations? Pay phone? Postal service? Propane? Wood

The park has limited facilities, but there is a general store within a mile of the park at Nordland.
The park has no camping.
The park offers one single-lane launch ramp, which drops gently down the beach north of the floats.

A daily watercraft launching permit and a trailer dumping permit may be purchased at the park.

Annual permits also may be purchased at State Parks Headquarters in Olympia, at region offices, online, and at parks when staff is available.

The park also provides 683 feet of moorage and a boat pumpout station.

Moorage fees are charged year round for mooring at docks, floats and buoys from 1 p.m. to 8 a.m. Daily and annual permits are available. For more information, call (360) 902-8844.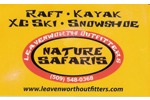 We want to share the nature and adventure of river rafting, kayaking, cross country skiing and snoeshoeing in the beautiful Cascade Mountains of Washington State with our honored guests.
84 miles from park*