MISSISSIPPI PALISADES STATE PARK
MISSISSIPPI PALISADES STATE PARK
16327A IL Rte. 84
Savanna, Illinois   61074
Phone:
815-273-2731
Reservations:
815-273-2731
Email:

The Native American pathfinders along the rock palisades of the Mississippi River did as present-day hikers do - in coursing the bluffs, they took the paths of least resistance. The trails at the Mississippi Palisades, especially the park's southern routes, puts you in touch with the past. Walk them and you'll trace the footsteps of all those who came before you, some of whom came this way nearly a thousand years ago.

Located near the confluence of the Mississippi and Apple rivers in northwestern Illinois, the 2,500-acre Mississippi Palisades State Park is rich in American Indian history.
Palisades is the word used to describe a line of lofty, steep cliffs usually seen along a river, and Mississippi Palisades, 3 miles north of Savanna in Carroll County, handsomely lives up to its name. Caves are evident as are dangerous sink holes-limestone caves that go straight down. Erosion has carved intriguing rock formations, including Indian Head, with its aquiline characteristics, and Twin Sisters, a pair of humanoid figures on the bluff tops. The U.S. Interior Department recognized the remarkable nature of this area when in 1973 it designated acreage here as a national landmark.

Wooded ravines, whose brilliant hues splash the cliffs with color each autumn, dissect the unglaciated terrain. Ferns, dot the deep ravines, while in the park's northern region, leaves of the white birch ripple in the wind. Each spring and summer the valleys and slopes are dappled with the blooms of trillium, bluebell, lobelia, shooting star and yellow ladies' slipper.

Animal life, within the park and the river areas immediately adjoining it, is varied. Waterfowl and shorebirds are numerous, as are wild turkeys. Striking pileated woodpeckers make their home in the park, and depending on ice conditions, eagles feed at the river in January and February. Because so many birds migrate along the river, their lyrical songs can be heard at the Mississippi Palisades each spring and fall.

But not all that's fascinating about Mississippi Palisades' wildlife is in the skies. White-tailed deer, gray squirrel, skunk, muskrat and weasel can be viewed in the park, as can mink, gray and red fox, woodchuck and, even occasionally, badger.
With 241 Class A and B sites in both shaded and open areas, Mississippi Palisades is in demand by campers. Electrical hookups are available at 110 sites. Showers and flush toilets are situated in three buildings and are in operation from May 1 until Oct 31. The campground also features water and two sanitary dump stations. Only campers with permits are allowed in the campground, with admittance prohibited from 10 p.m. to 730 a.m. Reservations are accepted, but not required, for most sites at Mississippi Palisades.

Two youth camping areas are also available. These may be reserved from June 1 through October 31. An adult must accompany every group of 15 minors. Any group of 25 or more must get permission from the site personnel before entering the park.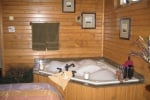 Cottages and Cabins
More than just lodging, it's home to 12 cabins located on 10 wooded acres just minutes from Lake Carroll approximately 30 minutes from beautiful state parks such as Mississippi Palisades, Lake Le-Aqua- Na, White Pines Forest, Rock Cut, Morrison-Rockwood. A romantic whirlpool cabin with fireplace or country kitchenette can accommodate everything from intimate parties to family reunions. Enjoy our friendly atmosphere beside the bonfire or in our 8-person hot tub.
18 miles from park*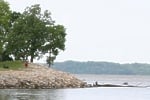 Hotels/Motels
You will feel right at home when you reach Carroll County, our corner of beautiful Northwest Illinois. The magnificent Mississippi River and outdoor spaces will refresh your spirit and touch our soul.
0.1 miles from park*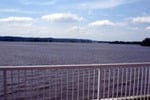 BBs / Inns
Our Vacation Rental Home is located right on the banks of the Mighty Mississippi River between Savanna and Thomson Illinois. Our location has one of the most awe-inspiring views of the Mississippi River around. We are only a few miles south of the Mississippi Palisades State Park and just one block away from the Great River Bike path that runs from Savanna to East Moline. Spend your next vacation or leisure weekend on the Mighty Mississippi.
8.9 miles from park*