LEOMINSTER STATE FOREST
Leominster State Forest is a 4,300-acre parcel of forested land, located in the five towns of Westminster, Princeton, Leominster, Fitchburg and Sterling in North Central Massachusetts. The forest is conveniently located off of Rte 2 (exit 28), is an easy drive for local residents, and convenient from the Boston and Worcester communities. Parking is available along Rte. 31 in several areas. From Memorial Day to Labor Day, parking fees are charged in the paved parking lots. The forest offers recreational opportunities year round, ranging from mountain biking and swimming in the summer to cross country skiing and snowmobiling in the winter. Nature lovers will enjoy the numerous hiking trails, the prolific mountain laurel bloom in late June, early July and the opportunity to observe all kinds of wildlife.
The forest has a rich history of land use, dating back to Native Americans who used the Crow Hill ledges for shelter and for sending smoke signals to neighboring tribes. In the early 1700's, a series of land grants were given to the heirs of soldiers killed in the French and Indian Wars, by the General Court of Massachusetts Bay Colony. Many of these parcels became part of the unincorporated settlement known as Notown, almost all of which is part of Leominster State Forest today. In 1838 the lands of Notown were finally incorporated into the towns of Leominster, Fitchburg, Westminster and Princeton. Today, there are numerous cellar holes, stonewalls and fruit trees still visible along the forest roads and trails.
---
Leominster State Forest is located near Clinton, Fitchburg and Gardner
---
From Memorial Day to Labor Day, all types of interpretive programs are conducted by the park interpreter. These programs include hiking, visiting unique geologic and historical features in the park, vernal pool programs, wildlife and birdwatching walks. Check the bulletin boards in the parking lots, local newspapers or call the park for upcoming events.
The trails at Leominster State Forest are extensive and offer a wide variety of terrains. For hikers, The Midstate Trail, a 95-mile long-distance trail that runs from Rhode Island to the New Hampshire border, passes through the western edge of the park. A popular day hike along the Midstate Trail begins at Redemption Rock on Rte 140 in Princeton, and heads north over a scenic ridgeline which includes Crow Hill Ledges. Heading south from Redemption Rock it is a pretty hike over to the summit of Mount Wachusett State Reservation, another DCR managed property. Wachusett Greenways, a local land preservation group, offers a variety of guided hikes and trail maintenance days in Princeton, Sterling and surrounding towns throughout the year.

The terrain available to mountain bikers ranges from rolling unpaved fire roads to more technical, single track, multi-use trails. Hiking trails are off limits to bikers. New England Mountain Bike Association has been an ardent supporter of the trail system here. The Wachusett Chapter of NEMBA generally runs four trail maintenance days, two in the spring and two in the fall. All are welcome to join in the fun and help to improve the trails at the park. Another popular and unique recreational use of LSF is rock-climbing at Crow Hill Ledges. Permits are required (no fee) and are available at the park HQ's or at the contact station between Memorial Day and Labor Day.

The swimming beach at Crow Hill Pond is located next to two beautiful picnic areas that also provide picnic tables, grills and a modern bathhouse. DCR lifeguards are on duty from mid-June until Labor Day. All other ponds in the park are off limits to swimming. Kayakers, canoeists and fishing enthusiasts enjoy using Paradise Pond for their recreational pursuits. The numerous islands, inlets and coves provide great warm water fishing and countless exploring opportunities. Paradise Pond is easily accessible off Rte. 31, where several put-ins are available. Crow Hill Pond (swimming beach side) is stocked with trout several times a year by Mass Fisheries and Wildlife. Hunting is also allowed in the park; all regulations apply. Winter recreation includes cross country skiing, snow shoeing and snowmobiling. Snow mobiling is limited to the unpaved roads and the multi use trails. All other motorized uses are prohibited.
---
---
Ric's Bait & Tackle
101 Marguerite Ave
Leominster, MA
(978) 534-5455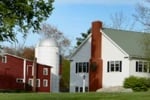 Hotels/Motels
Located on over 100 wooded lakefront acres, overlooking Ashland State Park. Right out our front door you get to truly enjoy the great outdoors. Easy access to trails for hiking, and an area for swimming. Come and enjoy all that Ashland State Park has to offer, and stay at the Warren Center right next door.
27.5 miles from park*