HOBBS STATE PARK-CONSERVATION AREA
Arkansas's largest state park in land area, Hobbs State Park-Conservation Area (HSPCA) covers 12,055 acres along the southern shores of 28,370-acre Beaver Lake. Twenty-two of the park's 60 miles of border stretch along the shores of Beaver Lake. The park lies between Beaver Lake to the north and War Eagle Creek to the south. It stretches across a part of Benton County southeast of Beaver Lake and extends into Madison and Caroll counties. This large tract of Ozark landscape consists of plateaus, ridges, valleys, and streams featuring an upland forest of pine, oak and hickory. Many water features including disappearing streams, springs and seeps have carved the many hollows in this fragile limestone landscape, as well as created cave-related features including numerous sinkholes.

HSPCA is managed jointly by Arkansas State Parks, the Arkansas Natural Heritage Commission, and the Arkansas Game and Fish Commission. The park is 10 miles east of Rogers on Ark. 12, which bisects the park property.


---
Get directions
to this park: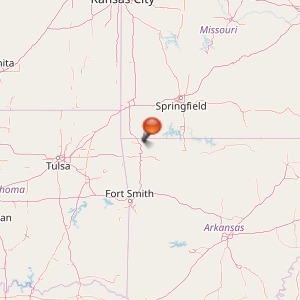 ---
The park includes a wide variety of trails. The Historic Van Winkle Trail is a one-and-one half-mile trail that leads hikers through a tunnel under Ark. 12 to the site of the historic Van Winkle lumber mill and home in Van Winkle Hollow on the West Fork of Little Clifty Creek. Here hikers can see the remnants of a sawmill and an antebellum garden owned by Peter Van Winkle during the 19th century. Beginning in the 1840s and continuing throughout his life, Van Winkle acquired approximately 17,000 acres of land throughout Washington, Benton, Madison, and Carroll counties by filing for land patents and purchasing foreclosed land. The tunnel and associated walkways were designed to provide barrier-free access to the historic site. Wayside interpretive panels along the trail provide hikers with information about this historic area. The trailhead features a parking lot large enough to accommodate two school buses or recreational vehicles and 18 automobiles. Water fountains and a composting toilet are located adjacent to the parking area.

The Pigeon Roost Trail is a double-stacked loop trail, in a figure eight formation, featuring a short loop of approximately four miles for day hiking and a longer loop of eight and one half miles for overnight use. This moderately difficult trail is excellent for beginners, scouts and families looking for adventure and scenery without having to travel a great distance. Campsites are marked with signs and each has a tent pad and fire ring. The trailhead and its associated parking area are located on Hwy. 12. The trail passes several sinkholes and some portions follow ridges overlooking Beaver Lake. Some of the primitive campsites on the trail offer views of the lake, especially in winter when leaves are off the trees in the surrounding Ozark oak/hickory/pine forest. Wild turkey, whitetail deer and other wildlife are commonly seen along the trail.

The 21-mile Multi-use Hidden Diversity Trail is designed for equestrians, mountain bikers and hikers. No motorized vehicles are allowed. Users have the option of four trail sections or loops. The trail follows ridge tops and rims with lots of curves and a few hills that drop 200 to 300 feet in elevation. The entire trail is surrounded by woods that are mainly comprised of oak and hickory. When weather conditions warrant, the trail is subject to closure to mountain bike and equestrian use. In addition, all or a portion of the park's trail system may be closed occasionally for permitted hunting seasons or maintenance repair. Contact the park to check on the current trail status before traveling to Hobbs to participate in these activities.

The one-and-one-half-mile Shaddox Hollow Nature Trail can be accessed from its trailhead parking lot located on Ark. 303, approximately one mile from the intersection on the north side of Ark. 12. The first one-half mile of this loop trail follows a ridgeline, providing an easy hike. The trail then descends into Shaddox Hollow. The descent is rather steep in places. This trail winds along the creek through stands of hardwoods and other native Ozark vegetation. Interesting limestone bluffs are found along this section. After progressing up the creek, the trail begins the ascent back to the trailhead. This climb can be strenuous in places.


---
Area Campgrounds