GUNLOCK STATE PARK
GUNLOCK STATE PARK
Gunlock Road
Gunlock, Utah   84733
(lat:37.2544 lon:-113.7707)

Phone:
435-218-6544
Toll Free:
877-887-2757
Email:

In scenic red rock country, 15 miles northwest of sunny St. George lies the 240-acre Gunlock Reservoir where year-round boating, water sports and quality fishing for bass and catfish attract visitors. Facilities include boat launching ramp and pit privies.
The name Gunlock is the same as the small farming community one mile to the north. William Haynes Hamblin (nicknamed Will or Bill), a Mormon pioneer born in Ohio, settled in the present area of the lake in 1857. Gunlock Will was a good hunter and sharpshooter, and was skillful in repairing gunlocks, which are the firing mechanisms for muzzleloaders.

His brother, Jacob Hamblin, was actually the more well known of the two. He was a Mormon settler and a missionary to the Indians of southern Utah and northern Arizona, particularly the Shivwits tribe of the Paiute Indians, who still live in this area.

The county road to the park is the Old Spanish Trail used by horsemen and raiders from Sante Fe, New Mexico to Los Angeles from the 1820 s until the gold fields became the destination after 1849 and a shorter route was taken.

A sparkling blue lake is rimmed with ponderosa pines, and a string of campgrounds follows the beginnings of the river to road?s end.

Gunlock Reservoir dam was constructed in 1970 for irrigation water and flood control.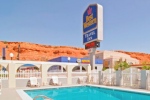 Hotels/Motels
The Best Western Travel Inn hotel is conveniently located in the center of St. George, Utah. The Best Western Travel Inn is in close proximity to restaurants, shopping, theater, historic sites, activities and more. You'll find the Best Western Travel Inn to be the perfect hotel location in St. George.
14.7 miles from park*