GENERAL BUTLER STATE PARK
GENERAL BUTLER STATE PARK
1608 Highway 227
Carrollton, Kentucky   41008-0325
Phone: 502-732-4826
Toll Free: 866-462-8853
Reservations: 502-732-4826
This hilltop resort that sits where the the Ohio and Kentucky Rivers meet honors a prominent military family. Named for General William Orlando Butler, the family?s military fame spanned from Colonial times through the American Revolution, the War of 1812, the Mexican War and the Civil War.

The Butler-Turpin House, built in 1859, offers a glimpse of Butler family history with its display of 18th and 19th-century heirlooms. Capture some of the area?s river town charm in the resort?s hilltop lodge and enjoy our 9-hole golf course, hiking, swimming and tennis. A spacious conference center makes this resort a destination for business as well as pleasure.
FACILITIES AND ACTIVITIES OVERVIEW
Accommodations
Golf Course
yes
A spacious campground features 111 campsites with utility hookups and grills. Showers, rest rooms, and laundry facilities are available at two central service buildings.

Open year-round. No advance reservations. Physically disabled site available. Check-out by 2:00 PM Pets are allowed if restrained.
General Butler has the perfect cottage for you, whether you prefer contemporary or traditional interiors. Each of the 24 cottages has a private balcony or patio. One, two, three-bedroom cottages with one bath and two or three executive cottages with two baths are available. Tableware, cooking utensils, and linens are provided with fresh linens available daily.

Open year-round. Cottages are available by late afternoon. Check-out by 11:00 AM, Eastern time.
Enjoy a day on the lake at General Butler. Rental pedal boats, canoes, rowboats, and surf bikes are available seasonally at the Boat Dock. Trolling motors allowed after Labor Day Weekend, restrictions posted. In other seasons, private boats with trolling motors are permitted.

Boat Dock open Memorial Day-Labor Day, from mid-August through Labor Day Weekend,the Boat Dock is open only four hours in the afternoon.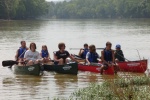 A store that caters to all of your boating, hunting, fishing and outdoor adventure needs. We offer canoe and kayak rentals for one and two day trips on the White River. New G3 brand jon boats as well as a used inventory. NEW White River Cabin on a peaceful river bank setting.
88.3 miles from park*