DELABAR STATE PARK
Located on the Mississippi River about 1 1/2 miles north of Oquawka near Illinois Route 164, Delabar State Park offers quality outdoor experiences for anglers, hikers, campers and picnickers.

Many of the park's 89 acres are forested with sturdy oaks, along with some birch and hickory trees. These forested areas serve as natural habitat for a variety of wildlife species, including squirrel, rabbit, raccoon, deer, groundhog and quail. More than 50 species of birds have been identified in the park, making Delabar State Park a natural haven for birders from throughout the state.

The park is named to honor two brothers, Roy and Jack Delabar, who donated the site to the state in 1959 to be developed as a state park. The park officially opened in 1960.
Areas for both tent and trailers are available. Electrical hook-ups, drinking water, a sanitary station and a jet pump for filling trailers are available. Campers must obtain a permit from the park staff before setting up camp. Group camping is available. Groups of 25 or more must have advance permission from the site superintendent.
---
Get directions
to this park: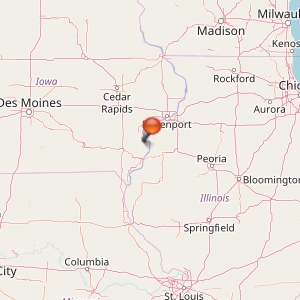 ---
Three picnic areas are available: one at the south end, one at the north end and one in the center of the park. All three are equipped with picnic tables and camp stoves. Picnic areas are conveniently located near parking areas. The center picnic area has a shelter to accommodate family group gatherings.

Drinking water and toilets are provided, and a playground is located near the center picnic area.Cooking fires are permitted only in the camp stoves. Open fires are prohibited.
Two marked trails covering nearly two miles through the woods are available for nature lovers and wildlife observers.
Many visitors take advantage of the backwaters of the Mississippi River for ice fishing and, when the ice is thick enough, ice skating.
---