CEDAR KEYS NATIONAL WILDLIFE REFUGE
Cedar Keys National Wildlife Refuge was established in 1929 by President Herbert Hoover to protect a breeding ground for colonial nesting migratory birds during a time when market hunters, desiring feathers for the ladies' apparel industry, were slaughtering millions of birds.

Today, the threat is much different - coastal islands are being rapidly developed and habitat is lost forever. Congress strenghtened the refuge in 1972 when it designated four of the original refuge islands as National Wilderness Areas under the Wilderness Act. Presently, the refuge is comprised of 13 islands ranging in size from 1 to 120 acres and totaling 762 acres.

The most recent addition to the refuge was Atsena Otie Key, which was purchased in 1997 by Florida's Suwannee River Water Management District and managed as part of the refuge through a partnership agreement.
Hotels/Motels
Luxury Gulf Front condos with spectacular views. A tranquil spot on this usually quiet island, yet shops and restaurants are within walking distance. Cedar Key is a picturesque artist/fishing/naturalist village with a diverse history. Within 20 min. of several State Federal wildlife refuges parks. A birders paradise. 877-514-5096
3.3 miles from park*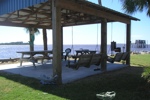 Hotels/Motels
The only motel in Cedar Key that is located directly on the Gulf of Mexico and is a short 5-minute walk to downtown shopping and entertainment. You can fish from our private, covered pier and boat dock, relax by the water and enjoy our covered picnic area and swings or rent a bicycle, golf cart or kayak and explore all that Cedar Key has to offer
4.5 miles from park*
---
Cedar Keys National Wildlife Refuge is
---
---
---
The refuge is located on the Gulf of Mexico in Levy County, along the southern edge of Florida's Big Bend Region. The islands that make up the refuge surround the town of Cedar Key, which is a quaint coastal village that blends old time commercial fishing with sport fishing and nature-based tourism. The nearest large city is Gainesville, home for the University of Florida. From Gainesville, travel southwest on State Road 24 and Cedar Key is located where the road terminates at the Gulf of Mexico. All the refuge islands are only reachable by boat.

There is no office or staff for Cedar Keys Refuge, personnel from Lower Suwannee National Wildlife Refuge, located on County Road 347, 17 miles north of Cedar Key, administer Cedar Keys refuge.