CARL SANDBURG HOME NATIONAL HISTORIC SITE
Carl Sandburg, nationally renowned poet, biographer, lecturer, newspaper columnist, folksinger, author of American fairytales, and winner of two Pulitzer Prizes, provided broad and enduring 20th century insight into the circumstances, worth and spirit of the American people. He passionately championed for the everyday working person, those who may neither have had the words nor the power to speak for themselves.

A Midwesterner most of his life, Sandburg and his family moved to North Carolina in 1945. This farm offered the peace and solitude required for his writing and offered Mrs. Sandburg over 30 acres of pasture-land that she desired to raise her champion dairy goats.

Sandburg, having already achieved literary fame before relocating to North Carolina, continued to write and lecture and published more than one-third of his works during his 22 years at Connemara.

Today the site, managed by the National Park Service, preserves the Sandburg legacy for future generations.

The historic landscape consists of the Sandburg residence, a dairy goat barn complex that is home to the park's Connemara Farms goat herd, sheds, rolling pastures, mountainside woods, five miles of hiking trails on moderate to steep terrain, two small lakes, several ponds, flower and vegetable gardens, and an apple orchard.
FACILITIES AND ACTIVITIES OVERVIEW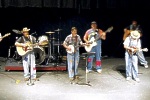 Built in 1986, the four story Pumpkintown Mountain Opry building is a monument to old-world craftsmanship and home of the restaurant and shops. We invite you to enjoy the theater arts of the Pumpkintown Mountain Opry or come relax on the porch and enjoy some ice cream or our great coffee.
35.4 miles from park*