CAMP GATEWAY - SANDY HOOK
CAMP GATEWAY - SANDY HOOK
26 Hudson Road
Highlands, New York   07732
(lat:40.4616 lon:-74.0042)

Phone:
347-630-1124
Welcome to Gateway National Recreation Area, Sandy Hook Unit There are a variety of cultural and recreational opportunities available at the park including history tours, living history demonstrations, hiking, birding, kayaking, camping, swimming, and biking. Sandy Hook is known for its beautiful beaches, the Fort Hancock and Sandy Hook Proving Ground National Historic Landmark, and the country's oldest continuing working lighthouse.This campground accommodates tent camping only. Be prepared to walk your gear up to .25 miles into the sites from the parking area. No cars are permitted in the campground or campsites. All campsites come equipped with a fire-ring, charcaol grill, picnic table, and food storage container.

Ice is sold out for the season. Plan accordingly and purchase ice outside the park before arriving. Flush toilets and running water are available. There are no showers and no electric outlets in the campsite or in the bathrooms. There is no public Wifi. There is no day-use permitted in the campground all guests must be camping overnight. All Beach Centers have restrooms and outdoor rinse showers. A variety of Food trucks are available throughout the summer at various beach plazas. Presence is not guaranteed daily.

Gateway National Recreation Area exists within one of the most urbanized areas of the country, covering 26,000 acres of New Jersey and three New York City boroughs. Among the urban environment, the park boasts grasslands, woodlands, sand dunes, beaches, ponds, salt marshes and forests.Twin Lights New Jersey Historic Site - Situated 200 feet above sea level atop the Navesink Highlands, Twin Lights has stood as a sentinel over the treacherous coastal waters of northern New Jersey since 1828. Named Navesink Lightstation, it became known as the Twin Lights of Highlands to those who used its mighty beacons to navigate. The lighthouse tower, museum, gift shop, and other buildings are open daily 10 a.m. - 5 p.m. from Memorial Day through Labor Day, and Wednesday through Sunday 10 a.m. - 430 p.m., September through May.

Mount Mitchill Monmouth County Scenic Overlook - At 266 feet, this overlook in Atlantic Highlands sits on the highest natural elevation on the Atlantic seaboard excluding islands from Maine to the Yucatan providing beautiful views of Sandy Hook, Sandy Hook Bay, Raritan Bay and the New York skyline.

Hartshorne Woods Mounmouth County Park - A hilly, forested 787-acre site overlooking the Navesink River, this park is among the highest elevations along the Atlantic Coast and features prominently in area history as a former coastal defense site. Known for its challenging trail system and scenic views, Hartshorne Woods is a popular park for area hikers, bicyclists and outdoor enthusiasts.

Holmdel Monmouth County Park - Holmdel Park is one of Monmouth County's most popular locations for active recreation and nature appreciation. Acquired by the Monmouth County Park System in 1962, just shy of one million visitors enjoy this 565-acre site yearly. This park features a historic farm, an arboretum, fishing, picnic areas, 4 tennis courts, 2 playgrounds, ice skating, sledding and 10 miles of trails - including a 1/2 mile paved loop linking the Pond View and Forest Edge areas of the park with group picnic facilities and playgrounds.Lifeguards are on duty from 10 a.m. to 6 p.m. from Memorial Day weekend through Labor Day at five ocean beaches. Please swim only at guarded beaches and only when lifeguards are on duty. When wading, be aware of sudden drop-offs. If you can't swim, don't go in.

Surf fishing is permitted at all beaches except when lifeguards are on duty. Fishing beach and M lot are prime spots. Please stick to the posted signs for closures, as they do occur throughout the summer months for endangered shorebird nesting.

For a great way to see Sandy Hoo

Camp Gateway - Staten Island

This campground boasts a spectacular view of the Verrazzano-Narrows Bridge, the longest vehicle suspension span in the United States. When it opened in 1964, it was the longest span in the world for 17 years. It connects Fort Hamilton in Brooklyn and Fort Wadsworth in Staten Island. Not far from the campground is an overlook area which features a
....more

Camp Gateway Brooklyn Tamarak and Goldenrod

There's no other campground in the world where a family can sleep under the stars, tour the Statue of Liberty, watch a Broadway musical and kayak in one of the world's premier bird migration sanctuaries-all in one trip. Camp Gateway provides a tranquil outdoor experience right outside the nation's most lively and iconic metropolis- New York City.
....more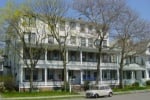 BBs / Inns
The Manchester Inn, The Ocean Grove New Jersey Bed Breakfast and The Secret Garden Restaurant are steps from the white sandy beach and the gentle surf of the Atlantic Ocean. Enjoy the cooling ocean breezes from our rocking chair porch while overlooking Ocean Pathway, Ocean Groves finest avenue
17.1 miles from park*