ALLAIRE STATE PARK
Allaire State Park is probably best known for its historic 19th-century ironmaking town, Allaire Village, and its antique steam trains on the Pine Creek Railroad. The Manasquan River, which winds through the park, attracts canoeists and fishermen. The river?s floodplain provides habitat for over 200 species of wildflowers, trees and plants as well as habitat for birds and other wildlife. Hikers, mountain bikers and horseback riders enjoy the many trails in the park.
Campsites: 45 tent and trailer sites with fire rings and picnic tables. Flush toilets and shower facilities are within walking distance. Trailer sanitary station open April 15 through October 31. Campsites open all year. $20 per night.

Yurts: Four yurts. Circular tents built on a wood frame, featuring wood floors, a deck and plexiglas skylight. Each yurt has a wooden door, window screens and flaps, and two double-deck bunks, which sleep up to four people. Accessible to persons with disabilities. $30 per night.

Shelters: Six shelters. Cabin-like structures with wood stove for heat and two double-deck bunks, which sleep up to four people. Each site includes a fire ring and picnic table. Accessible to persons with disabilities. Shelters open February 1st til Dec 31st $40 per night.

Group campsites: Six group sites with fire rings, picnic tables and composting toilets; total capacity: 250. Open all year. 2 sites accommodate 25 campers at $25 per night. 4 sites accommodate 50 campers at $50 per night.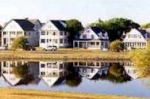 The Morning Dove Inn, located between the historic towns of Ocean Grove and Spring Lake offers various nearby attractions to delight anytime of the year.
6.4 miles from park*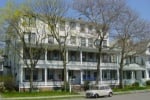 The Manchester Inn, The Ocean Grove New Jersey Bed Breakfast and The Secret Garden Restaurant are steps from the white sandy beach and the gentle surf of the Atlantic Ocean. Enjoy the cooling ocean breezes from our rocking chair porch while overlooking Ocean Pathway, Ocean Groves finest avenue
7.8 miles from park*
The Manasquan River flows eastward through the park offering scenic and tranquil setting for canoeists. Canoe rentals are available nearby.
---
---
Picnic facilities are provided for family outings in attractive wooded settings adjacent to the village. Playground equipment for children is located nearby. Charcoal grills, tables and sanitary facilities are provided.
A network of trails winds through the park providing opportunities for hikers, mountain bikers and horseback riders. The yellow trail at .5 miles, the red trail at 1.5 miles and the green trail at 4.5 miles are easy hiking trails for pedestrians only. The orange trail, which is 16.5 miles long, is a moderate multi-use trail.
The center features displays related to the natural features and creatures of the area. Nature walks are conducted daily during the summer season and special programs for groups can be arranged by appointment. Open daily from Memorial Day through Labor Day, and Wednesday through Sunday the rest of the year.
Historic Allaire Village

The historic village was known as the Howell Works in the early 19th century. At that time it was a thriving industrial community which produced pig and cast iron. The buildings which remain today include a general store, blacksmith shop, carpenter?s shop, manager?s house, foreman?s house and a church. One of the workers' row house buildings is now the Visitor Center and Museum.

Allaire Village Inc., a nonprofit corporation, sponsors more than 40 programs and events annually, including living history events, antique shows, arts and craft shows, and flea markets. For more information, write or call Allaire Village, Inc. at (732) 919-3500.

Pine Creek Railroad

Established in 1953, the Pine Creek Railroad is an example of rail travel at the height of the steam era in the United States. The live-steam and diesel, narrow-gauge trains are operated by the NJ Museum of Transportation. For more information, call (732) 938-5524.

Visitor Center and Museum

Exhibits on the 19th-century bog iron industry, the Howell Works (original name for Allaire Village), and its owner, James P. Allaire provide an introduction to Allaire Village. Special programs are offered throughout the year. Open daily from Memorial Day through Labor Day, and Wednesday through Sunday the rest of the year.
---
Allaire State Park can be reached from exit 98 off the Garden State Parkway or exit 31B off Interstate 195.