TROUGH CREEK STATE PARK
The 554-acre Trough [troff] Creek State Park is a scenic gorge created as Great Trough Creek cuts through Terrace Mountain and empties into Raystown Lake. Rugged hiking trails lead to wonders like Balanced Rock and Rainbow Falls. Rothrock State Forest and Raystown Lake Recreation Area border the park, making a large, contiguous area of public land for recreation.
This renovated two-story stone mansion is available for rental year-round. Originally constructed in the mid-1800s as an ironmaster?s home, it has a modern eat-in-kitchen, two bathrooms, four bedrooms and central heat. The lodge has spacious porches, yard areas and sits atop a hill overlooking Paradise Furnace. The lodge is fully accessible for people with disabilities.
Camping: 32 sites, all with electricty

The cozy camping area accommodates any size camper and has a rustic restroom with no showers. Each site has an electric hookup, picnic table, campfire ring and separate tent pad. A sanitary dump station is next to the park office. Camping is open from the second Friday in April through the middle of December.
June 20
Bats on the Wing
Creeped out or just plain fascinated by bats? Come separate fact from fiction and learn about these beneficial night creatures.
Meet at Campground amphitheater.
June 20
In Search of Aliens!
A walk to see aliens, really? We have alien invaders right here in our back yards. We'll take a stroll through the scenery of Trough Creek to meet some of these plant invaders that are taking over our forests.
Meet at picnic area by Pavilion #5
June 20
Birding Basics
Do you know the proper way to use binoculars? Do you know basic birds of Pennsylvania? Try your skills at using binoculars and identifying some 'set up' birds.
Meet at Ice Mine parking area.
---
Get directions
to this park: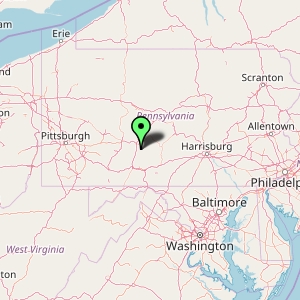 ---
Five picnic areas throughout the park provide a variety of scenic table sites. One large picnic pavilion and two smaller ones may be reserved up to 11 months in advance for a fee. Unreserved picnic pavilions are free on a first-come, first-served basis. A fourth small picnic pavilion is available on a first-come, first-served basis. Restrooms, hand pump wells and activity areas are in some picnic areas.
Snowmobiling:

The park serves as a trailhead for trails on Rothrock State Forest lands. Parking and restrooms are provided in the park. A snowmobile trail map is available from the park office.
For information on nearby attractions, contact: Huntingdon County Visitors Bureau, 888-RAYSTOWN.

Warriors Path State Park: About 12 miles southwest of Trough Creek State Park in Saxton, Bedford County, the park is just off of PA 26. Warrior?s Path is a 349-acre day use park on a peninsula created by a large meander of the Raystown Branch of the Juniata River. Picnicking, river fishing and hiking are popular recreational activities. 814-658-3847

Rothrock State Forest: Over 90,000 acres of state forest land in Huntingdon County provides wooded land for hunting, fishing, snowmobiling, hiking and undeveloped recreation. 814-643-2340

Raystown Lake: This major recreation area administered by the U.S. Army Corps of Engineers encompasses 29,300 acres including a 30-mile long, narrow 8,300-acre lake. A variety of recreational opportunities are provided in 13 public use areas, including boat launches, marinas, camping, picnicking, swimming and fishing. 814-658-3405
---
Seven Points Bait & Grocery
7 Points Rd
Hesston, PA
(814) 658-3718
Lake Raystown Resort & Lodge: Ofc
100 Chipmunk Xing
James Creek, PA
(814) 658-3500
Heritage Cove Resort
River Rd
Saxton, PA
(814) 635-3386
This beautiful 3 year new vacation home in Bedford County, with 3 Bedrooms and 2 Full Baths, rests on 8.4 acres and is part of a gated rural community that backs up to Gallitzin State Forest.
28.5 miles from park*
The park can be reached by traveling 16 miles south from Huntingdon along PA 26, then five miles east along PA 994 near the village of Entriken.