SPENCER STATE FOREST
SPENCER STATE FOREST
Howe Pond Rd.
Spencer, Massachusetts   01562
Phone: 508-886-6333
Spencer State Forest, a 965-acres area provides swimming and picnicking facilities on Howe Pond. Other activities offered at Spencer include fishing, canoeing, hiking, Nordic skiing and snowmobiling. The Midstate Trail, a long-distance hiking trail that extends through central Massachusetts to Mt. Watatic in the north, runs close to the park.
---
---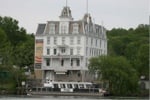 ---
Area Campgrounds
Camp Coldbrook
864 Old Coldbrook Road
Barre, MA
978-355-2090


Village Green Family Campground
228 Sturbridge Road
Brimfield, MA
413-245-3504


Lake Manchaug Camping
76 Oak Street
East Douglas, MA
508-476-2471


King's Campground
24 Holt Road
Manchaug, MA



Pine Acres Family Camping Resort
203 Bechan Road
Oakham, MA



Sturbridge Resort
19 Mashapaug Road
Sturbridge, MA
508-347-7156


Yogi Bear's Sturbridge Jellystone Park
30 River Road
Sturbridge, MA
508-347-9570


Indian Ranch Recreation
200 Gore Road
Webster, MA



Highview Campground
58 John Gilbert Road
West Brookfield, MA
508-867-7800


The Old Sawmill Campground
PO Box 377
West Brookfield, MA
508-867-2427


Sutton Falls Camping Area
90 Manchaug Road
West Sutton, MA
508-865-3898


The Old Holbrook Place
114 Manchaug Road
West Sutton, MA
508-865-5050


Spencer State Forest is located in mid-central Massachusetts.

From east or west: Rte. 9 to Rte. 31 south to Howe Pond Rd. Follow signs.