PINCKNEY RECREATION AREA
Pinckney Recreation Area is a paradise for backpackers, mountain bikers, anglers and other recreation enthusiasts. Pinckney is known for its extensive trail system and chain of excellent fishing lakes. Twenty-six miles of multi-use trail with remote campsites afford a backcountry experience. Pinckney Recreation Area provides a wide variety of activities for the park visitor in its three major use areas: Silver Lake Day Use area,, Bruin Lake (a modern campground) Bruin Lake Campground Events and the Halfmoon Day Use facility. The landscape, a terminal moraine area, was formed during the last glaciation period.
Pinckney Recreation Area Glenbrook Yurt(800) 447-2757 1 site(s)

Pinckney-Blind Lake Rustic(800) 447-2757 10 site(s)Rustic Site, Vault Toilet, Walk-in Sites

Pinckney-Bruin Lake Modern(800) 447-2757 186 site(s)Boat Launch, Electrical Service, Fishing, Modern Restrooms, Swimming

Pinckney-Crooked Lake Rustic(800) 447-2757 25 site(s)Boat Launch, Fishing, Rustic Site, Vault Toilet
Concession is located in the Silver Lake day use area.
There are two public beaches, one at Silver Lake and one at Halfmoon Lake. The Bruin Lake beach is only open to campers.
Boaters and anglers will find great opportunities on the many lakes throughout the recreation area. There are improved boat launches on Bruin, Halfmoon, South, North, Joslin and Portage lakes. Unimproved ramps are located on, Crooked, Gosling, and Hiland Lakes. There are hand-carry access sites onto Sullivan Lake and Pickerel Lake. The chain of seven lakes can be accessed from Bruin and Halfmoon.

Boat rentals are available at Silver Lake from Memorial Day to Labor Day for row boats, canoes, paddle boats, kayaks and your-motor-on boats for fishing. Reservations are available by calling Hell Canoe and Kayak Rentals at 734-878-2233.
---
Pinckney Recreation Area is located near Ann Arbor, Brighton and Chelsea
---
Concessions, boat rentals, a trail system, seasonal modern toilet facilities, playground, volleyball courts, horseshoe pits and a fishing pier are available at Silver Lake beach and picnic area. A boat launch, picnic shelters, trail access, volleyball court, horseshoe pits, and playground are available at Halfmoon Lake beach and picnic area. Two picnic shelters are available at Half Moon Lake. For reservations please call the park office at (743) 426-4913.
Pinckney's trails are adjacent to the Highwater Corral. If you do not have a horse and would like to go for a ride, visit the Highwater Corral for current information about hours, activities and prices.
An extensive trail system is available to the hiker and mountain biker.
An extensive trail system is available to the hiker and mountain biker. The trails all begin at Silver Lake Beach. Trailside camping is available within designated campgrounds. Please contact the park office for registration information before you camp.

Pinckney-Crooked Lake Trail Trail Length: 5.00 (Miles)Cross Country Ski, Hiking, Mountain Biking

Pinckney-Equestrian Trails Trail Length: 8.00 (Miles)Equestrian

Pinckney-Losee Lake Trail Trail Length: 3.30 (Miles)Hiking

Pinckney-Potawatomi Trail Trail Length: 17.00 (Miles)Cross Country Ski, Hiking, Mountain Biking, Walk-in Sites

Pinckney-Silver Lake Trail Trail Length: 2.00 (Miles)Cross Country Ski, Hiking, Mountain Biking

Pinckney-Waterloo Trail Trail Length: 35.00 (Miles)Cross Country Ski, Hiking
---
---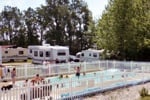 Campgrounds
Enjoy Southeast Michigan's Best Family Camping experience at our clean, quiet, friendly campground. Jumping Pillow, WiFi, Paddle Boats, Minigolf, Swimming, Bicycling and more
27.8 miles from park*