PERRY STATE FOREST
PERRY STATE FOREST
Somerset, Ohio   43783
(lat:39.7755 lon:-82.1986)
Phone: (740) 674-4035
Whether you come to Perry to Ride APVs (all purpose vehicles), go horseback riding, hunt or just visit, you will have an enjoyable state forest experience. Much of Perry State Forest was strip mined for coal prior to existing reclamation law, resulting in very rugged, sometimes barren terrain. Since the state acquired the area in 1961, some reclamation has been accomplished, including a large area along CR 48. Several reforestation and test tree planting have been established on the forest. Note: The AVP area is open from April 2 through November 30. The Perry APV area is the most popular public riding area in Ohio. Miles of challenging trails are open. Picnic tables and latrines are provided at the parking area. Perry State Forest has a very scenic, day-use bridle trail system. Parking for horse trailer rigs is provided along County Road 48. The Miles Lake water is suitable for horses. The diversity of forest cover encourages a variety of wildlife species and hunting opportunities.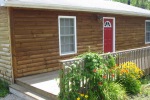 Cottages and Cabins
Escape to the Heart of Southeastern Ohio. Enjoy the peace and tranquility as you relax in the hot tub located just off the back deck. Create your own home cooked country style meal in the fully equipped kitchen. Just minutes from Burr Oak State Park.
19 miles from park*
Cottages and Cabins
Burr Oak State Park - Located in the rolling hills of southeastern Ohio. Rose's Vacation Cabin Rental is a special place to make your Honeymoon, Anniversary, or Family Getaway a relaxing experience.
19.2 miles from park*