PARIS LANDING STATE PARK
PARIS LANDING STATE PARK
16055 Hwy 79 N.
Buchanan, Tennessee   38222
Phone: 731-641-4465
Toll Free: 800-250-8614
Reservations: 800-250-8614
The 841-acre Paris Landing State Park is named for a steamboat and freight landing on the Tennessee River, dating back to the mid 1800's. From here and other landings on the Tennessee River and Big Sandy River, supplies were transported to surrounding towns and communities by ox cart.
Forty-four campsites, each with water, electricity, picnic table and grill, are located near the lake. Two bathhouses provide restrooms and hot and cold showers. A dump station is available for self-contained recreation vehicles.
Ten lakeside rental cabins are available for your family or group. Each cabin is fully equipped for housekeeping, with 3-bedrooms (5 double beds), 2 bathrooms, a full-sized kitchen, linens, stone fireplace, telephone, and cable-tv. All cabins are controlled with central heat and air conditioning. Reservations will be accepted up to one year in advance. Weekly reservations are required during the summer months, Memorial Day through Labor Day.

Check-out 10:00 a.m.

Monday guaranteed check-in at 4:30 p.m.

Reservations:731-642-4311 or 1-800-250-8614
The Olympic-sized pool is the place to be in the summertime. A white-sand beach volleyball court, two diving boards, a kiddie pool for the little ones, snack bar, and over 150 sun-loungers, all within the pool complex.

There is a swimming area and beach on Kentucky Lake. There are no lifeguards, although it is a protected swimming area with picnic area and restrooms nearby.

There is also a swimming pool at the inn
The Marina Store sells fishing licenses, bait, tackle, ice, and grocery items. A new service dock with fuel and supplies is also available as well as a FREE launch ramp with plenty of parking. Fuel is available: gas 89 octane, diesel.

Two-hundred and twenty-five covered and uncovered slips are located at the marina along with transit dockage. Please check with the marina office for annual or monthly slip rates and availability.

Marina Office and Store: (731)641-4474

No Boat Rentals
---
Get directions
to this park: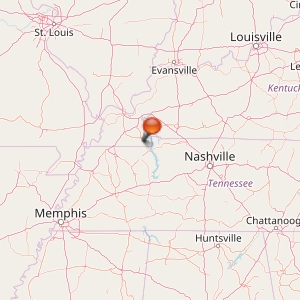 ---
The parks picnic area borders Kentucky Lake, with its beautiful view, fishing dock, playground, tennis/basketball courts, swimming pool, and amphitheater all in the same area.

PICNIC SHELTERS

Plan your next family reunion, church or company picnic outing with us by calling (901) 642-4311.

Large Shelter (near amphitheater)

Bathrooms, electricity, telephone, and grills

Small Shelter (picnic area)

Grills, water, near pool and playground.
Special Events

Information on special events planned for 2004-2005 is provided in printable .pdf format. Christmas By The Lake Arts and Crafts Festival 2004 will be held at Paris Landing State Park?s Conference Center on November 27 and 28 from 10:00 A.M. until 5:00 P.M.
---
Pleasant View Resort
289 Pleasant View Resort Rd
Springville, TN
(731) 593-5511
Mansard Island Resort & Marina
60 Mansard Island Dr
Springville, TN
(731) 642-5590
Howell's Resort
441 Buchanan Resort Rd
Springville, TN
(731) 642-7442
Pine Point Boat Dock
175 Pine Point Loop Rd
Springville, TN
(731) 642-9555
Oak Haven Resort
248 Oak Haven Rd
Buchanan, TN
(731) 642-1550
Big Eagle Camp Ground
275 Duncan Dr
Springville, TN
(731) 642-3688
Fishtale Lodge of Paris Landing
14275 Highway 79 N
Buchanan, TN
(731) 642-7113
Paris Landing State Park: Paris Landing Inn
400 Lodge Rd
Buchanan, TN
(731) 642-4311
Leatherwood Resort & Marina
753 Leatherwood Bay Rd
Dover, TN
(931) 232-5137
Nannie Ree's Oak Tree Resort
7930 Lick Creek Rd
Big Sandy, TN
(731) 593-5685
Missing Hill Resort & Campground
234 Dockway LN
New Concord, KY
(270) 436-5519
18 miles east of Paris, TN on US Highway 79 or 45 miles West of Clarksville, TN on US Highway 79. For specific driving directions, visit MapQuest.com using the required street address of 400 Lodge Road, Buchanan, TN 38222.