OIL CREEK STATE PARK
The Oil Creek Valley is the site of the world's first commercial oil well. Oil Creek State Park tells the story of the early petroleum industry by interpreting oil boomtowns, oil wells and early transportation. Scenic Oil Creek carves a valley of deep hollows, steep hillsides and wetlands.
The primary purpose of Oil Creek State Park is to tell the story of the changing landscape. The early petroleum industry's oil boom towns and important oil well sites are in contrast with clean trout streams and forested hillsides seen today throughout the park. The events of the exciting 1860s, the time of the original oil boom, receive special emphasis.
Oil Creek offers a scenic float and is classed as a beginner's creek under normal conditions. Water levels can change rapidly and canoeists should call the park office for current water conditions. Generally, the canoeing season is from March to June.
---
Get directions
to this park: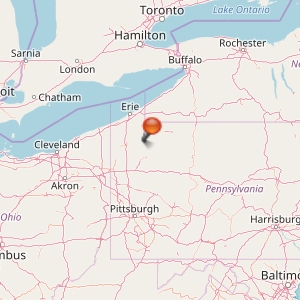 ---
Blood Farm Day Use Area and Egbert Farm Day Use Area are on the southern side of the park and are ideal settings for an enjoyable outing. The day use areas have picnic tables, charcoal grills, drinking fountains, restrooms, playfields, and picnic pavilions that may be reserved up to 11 months in advance for a fee. Unreserved picnic pavilions are free on a first-come, first-served basis. Call 888-PA-PARKS for reservations. Picnic tables and restrooms are at key points along the bicycle trail.
The park offers a wide variety of environ-mental education and interpretive programs. Through hands-on activities, guided walks and evening programs, participants gain appreciation, understanding and develop a sense of stewardship toward natural and cultural resources.

Curriculum-based environmental education programs are available to schools and youth groups. Teacher workshops are available. Group programs must be arranged in advance and may be scheduled by calling the park office.

Programs are offered early spring through late fall. For more detailed information contact the park office.
For information on nearby attractions, please contact: Oil Heritage Region Tourist Promotion Agency, 800-483-6264 ext. 18.

The Drake Well Museum: The museum is administered by the Pennsylvania Historical and Museum Commission and is at the north end of Oil Creek State Park near Titusville. The museum presents a full-size replica of the engine and derrick over this early oil well, plus outstanding exhibits about Pennsylvania oil country.

Pithole: Within six miles of Oil Creek Valley is Pithole, America's largest oil boom town. Oil was discovered in Pithole in January 1865. By September 1865, Pithole had grown into a city of 15,000. For information on Drake Well and Pithole, contact: Drake Well Museum, 203 Museum Lane, Titusville, PA 16354, 814-827-4888, www.drakewell.org.

Excursion Train: The Oil Creek and Titusville Railroad operates an excursion train on weekends and other dates from May through October. The 26-mile round trip travels through Oil Creek State Park from Titusville to Rynd Farm. Call OC&T RR at 814-676-1733 for reservations and information.
---
Area Campgrounds
Area Fishing Related Businesses
Hansen's Bait Stand
83 Peninsula Dr
Erie, PA
(814) 838-1642


Lake Erie Ultimate Angler
2400 W 8th St
Erie, PA
(814) 456-3035


Smith Bait Stand
34 State St
Erie, PA
(814) 459-4259


Bac Bait & Tackle
4858 W Lake Rd
Erie, PA
(814) 835-0581


Sons Sons of Lake Erie Fishing
PO Box 3605
Erie, PA
(814) 453-2270


Lawrence Park Fishing Club
3702 E Lake Rd
Erie, PA
(814) 898-3477


Maurer's Trading Post
1696 Pittsburgh Rd
Franklin, PA
(814) 437-9570


Bite Me Bait & Tackle
5097 Georgetown Rd
Franklin, PA
(814) 437-6987


Area Resorts and Lodging
Lodge on Sass
202 W 9th St
Erie, PA
(814) 452-3600


Fairfield Inn
2082 Interchange Rd
Erie, PA
(814) 868-0985


Residence Inn-Erie
8061 Peach St
Erie, PA
(814) 864-2500


Courtyard-Erie
7792 Peach St
Erie, PA
(814) 860-8300


Cross Creek Resort Inc
3815 State Rt 8
Titusville, PA
(814) 827-9611


Between Drake Well Museum and Titusville to the north, and Oil City four miles to the south, the main entrance to the park is off of PA 8, one mile north of the Borough of Rouseville.