NORTH BEND STATE PARK
Named for the horseshoe curve of the North Fork of the Hughes River, North Bend State Park offers a multitude of recreational facilities in a beautiful pastoral setting. The fishing streams, hiking trails, abundant wildlife and excellent overnight accommodations are among this year-round park's most popular features. The park also features the 72 mile North Bend Rail Trail,which is a trail designed for hiking, mountain biking and horseback riding. The rail trail runs along the old B & O Railroad bed from Parkersburg, WV to Wolf Summit, near Clarksburg, WV.

North Bend has a new 305 acre recreational lake. A new boat ramp, handicapped accessible fishing pier, and other fishing access points have been completed.
Campgrounds

The River Run camping area has a total of 49 camping sites, of which 26 sites have electric hookups. The campgrounds are open from Mid-April through October 31. Reservations are accepted on 15 of North Bend's electric campsites from Memorial Day through Labor Day. An additional handling fee is charged for reservations. Advanced reservations are recommended during the summer months and can be secured with a major credit card. Please call 1-800-CALL-WVA for more information.
Cabins

North Bend's eight deluxe vacation cabins are located atop a secluded ridge in a white pine forest. Constructed of solid cedar, the cabins offer fireplaces, electric heat, telephone, and two or three bedrooms. The cabins are completely equipped for housekeeping with cooking utensils, dishes, linens, blankets, kitchens with modern appliances, and baths with built in shower/tub units. Guests need only to supply food and personal items. The cabins must be rented for a minimum of one week during the summer season, with rental period being Monday to Monday. Please call 1-800-CALL-WVA and we'll be glad to assist with your plans.
The outdoor swimming pool is located near the River Run Camping area. The pool is unique in that it sits on top of a large hill with huge rocks to lay on for sunbathing. The pool is open 11:00 AM to 6:00 PM, Tuesday - Sunday from Memorial Day through Labor Day.
---
Get directions
to this park: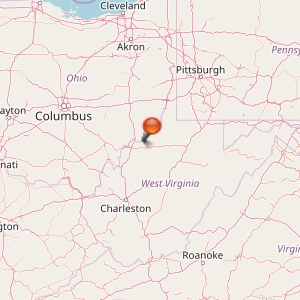 ---
North Bend offers three picnic shelters. They are perfect for family reunions, group cookouts and even weddings. Rates apply, call for details. The shelters may be reserved from mid-April through the end of October by calling 1-800-CALL-WVA.
A year-round Nature and Recreation Program is available featuring programs on the park's natural and cultural history. Programs run daily from Memorial Day through Labor Day and on weekends throughout the rest of the year. Special programs or tours can be arranged for groups.
North Bend Rail Trail

The North Bend Rail Trail is a 72 mile multi- purpose recreational trail.The trail was designed for mountain biking, hiking, and horseback riding. Motorized vehicles are not permitted on the trail. The North Bend Rail Trail extends from Parkersburg, WV at the western terminus to Wolf Summit, near Clarksburg, WV, along the abandoned B & O Railroad corridor. With only a 3% grade, the Rail Trail is ideal for all skill levels.

During the tumultuous years between 1853 and 1857, prior to the Civil War and the creation of the state of West Virginia, the Baltimore and Ohio Railroad constructed this section of the rail corridor that, due to the terrain, required numerous bridges and tunnels.

There are 13 tunnels along the North Bend Rail Trail, 10 of which you will pass through. Three tunnels were abandoned by the Railroad but may still be viewed along the trail. The 337 foot long Number 10 tunnel, west of Ellenboro is a "raw" or natural tunnel bored through solid rock: and far more fanciful, the Silver Run Tunnel, Number 19 is said to manifest the image of a young woman in white as recounted in the story of "The Silver Run Tunnel". Great pieces of history, architecture, scenery and recreational opportunities, it is a great place to bike, cross country ski, horseback ride or walk. For more information, please contact North Bend State Park at 1-800-CALL-WVA.
---
Burr Oak State Park - Located in the rolling hills of southeastern Ohio. Rose's Vacation Cabin Rental is a special place to make your Honeymoon, Anniversary, or Family Getaway a relaxing experience.
53.5 miles from park*
Located in the north-western section of the state, North Bend is easily accessible from four-lane U.S. 50 which stretches across north central West Virginia from Parkersburg to Clarksburg. Driving east, take U.S. 50 to the junction of WV 31 (21 miles). Take WV31 to Cairo and follow signs to the park. Driving west, take WV 16 to Harrisville and follow signs to the park. Consult your highway map for further details.