NIAGARA FALLS STATE PARK
The oldest state park in the United States offers numerous islands, famous Prospect Point area and many unique views of the world famous falls.

Visitors Center The Great Lakes Garden greets visitors up a pathway to the park's Visitors Center which offers information, exhibits and easy access to numerous gift shops and some refreshments.

Niagara Scenic Trolley You can enjoy a three-mile 30-minute guided overview of the park, or disembark at the various stops and explore the park's many attractions. $

Cave of the Winds Explore below the falls, navigating under the falls to the famous Hurricane Deck. Those rain ponchos you see aren't optional you'll be surrounded by the thundering power of water cascading down. $

Maid of the Mist This boat journey departs from the base of the Observation Tower at Prospect Point for a roundtrip into the churning waters of the American and Horseshoe Falls. $

Niagara Gorge Discovery Center With hands-on learning for all ages, the Discovery Center includes interactive displays and a multi-screen theater showing 12,000 years of the Niagara River. $

Observation Tower This 230-foot overlook provides the only U.S. location to view both the American and Horseshoe Falls. High-speed elevators provide access to the Gorge and boarding area for the Maid of the Mist. $

Niagara Legends of Adventure Theatre Located on the lower level of the Visitors Center, see the film that takes you from the historic to the heroic in a re-creation of legends and real life. $

Niagara Aquarium Located near the park's Discovery Center, this family favorite is home to more than 1,500 aquatic animals that represent ecosystems ranging from the Great Lakes to coral reefs. $


Niagara Discovery Pass Admission to the Cave of the Winds, Maid of the Mist, Niagara Adventure Theater, Gorge Discovery Center, Aquarium of Niagara, and all day transportation on the Niagara Scenic Trolley. Buy in the park. Adult $38, Child 6-12 $31, 5 years under Free

3,162 tons of water flows over Niagara Falls every second. This accounts for 75,770 gallons of water per second over the American and Bridal Veil Falls and 681,730 gallons per second over the Horseshoe Falls.

The water falls at 31.8 feet per second over the falls, hitting the base of the falls with 276 tons of force at the American and Bridal Veil Falls and 2,502 tons of force at the Horseshoe Falls.

Niagara Falls are capable of producing over 4,000,000 kilowatts of electricity, which is shared by the United States and Canada.
Niagara Falls State Park is the oldest state park in the U.S.A., established in 1885 as the Niagara Reservation, the first of several such reservations that eventually became the cornerstones to the New York State Office of Parks, Recreation and Historic Preservation.

Four of the five Great Lakes drain into the Niagara River, Superior, Michigan, Huron and Erie before emptying into Lake Ontario. These five Great Lakes make up almost one-fifth of the world's fresh water supply.

Over 12,000 years ago, Niagara Falls extended seven miles down river to what is now Lewiston, New York and Queenston, Ontario. Over the years, the brink has eroded, sometimes as much as six feet per year, to its present site.

In November 1896, electrical power was transmitted from the Adams Power Plant in Niagara Falls, New York to Buffalo, New York. This was the first time in the world that alternating current was transmitted over a long distance.

The verdant green colour of the water flowing over the Niagara Falls is a byproduct of the estimated 60 tonnes/minute of dissolved salts and rock flour very finely ground rock generated by the erosive force of the Niagara River itself. The current rate of erosion is approximately 1 foot 0.30 m per year down from a historical average of 3 feet 0.91 m per year. It is estimated that 50,000 years from now, even at this reduced rate of erosion, the remaining 20 miles 32 km to Lake Erie will have been undermined and the falls will cease to exist.


The Visitor Center is a convenient place to purchase the Niagara Discovery Pass.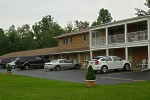 Hotels/Motels
Located in Grand island NY,5 miles South of Niagara Falls New York,NY.Low rates for daily, weekly and extended stay. Phone 716-773-2868
12 miles from park*