MY OLD KENTUCKY HOME STATE PARK
MY OLD KENTUCKY HOME STATE PARK
501 East Stephen Foster Avenue
Bardstown, Kentucky   40004-0323
Phone: 502-348-3502
Reservations: 502-348-3502
Federal Hill was the inspiration for Stephen Foster?s famous ballad, My Old Kentucky Home.

Today, this Georgian-style mansion is as endearing to visitors as it was in 1852, the year Foster wrote what has become the official state song while visiting his cousins, the Rowan family. Step into the days of the antebellum South as costumed guides escort you through the stately mansion and formal gardens.

During summer months, the outdoor drama "Stephen Foster ?The Musical" is performed under the stars in the park?s amphitheater. In the wintertime, Christmas candlelight tours highlight the holidays when the mansion is adorned with holly, pine and fruit garlands.
FACILITIES AND ACTIVITIES OVERVIEW
Camping
Water/Electric Sites
yes
Accommodations
Golf Course
yes
Admire the beautifult grounds of My Old Kentucky Home in the 39-site campground. Convenience is guaranteed with utility hookups, a central service building housing showes and rest rooms, and a dump station. A grocery store and a laundry are nearby across the street from the park.

Open April through October. No advance reservations.Check-out by 2:00 PM, Eastern time. Pets are allowed if restrained.
---
Get directions
to this park: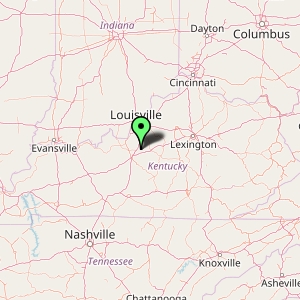 ---
Visitor?s Center:

The new building serves as the main entry point for visitors to the popular tourism attraction, Federal Hill Mansion, "My Old Kentucky Home" of Stephen Foster?s ballad. Don?t miss your opportunity to tour Federal Hill, where the antebellum South comes to life in fascinating detail.

Tours are given from 9:00 AM -5:00 PM, Eastern time, June through August; and open daily 9:00 AM-4:45 PM rest of the year. Closed Thanksgiving Day, the week of Christmas, & New Year?s Eve and Day.

"Stephen Foster - The Musical:"

Experience the tradition of Kentucky?s longest-running outdoor drama. This celebrated musical features colorful period costumes, lively choreography, and more than 50 Foster songs, including his most famous ballad, "My Old Kentucky Home."

For more information and reservations call 1-800-626-1563 or visit The Stephen Foster Drama Association?s website, www.stephenfoster.com, $.

Christmas Candlelight Tours:

Sample the elegant past during the annual Christmas Candlelight Tours at My Old Kentucky Home. Holly, pine and fruit garlands, magnolia, and the glow of candlelight adorn the mansion in splendid 1800s fashion. Elaborate period holiday costumes, music and traditional refreshments make your visit even more memorable.

Candlelight tours are held Fridays and Saturdays for the three weekends following Thanksgiving. Hours are 5:30 PM-8:30 PM, Eastern time. Group rates available.
---