MEADE STATE PARK
MEADE STATE PARK
13051 V Road
Meade, Kansas   67864
Phone: 620-873-2572
The only state park in southwest Kansas, Meade State Park is an oasis in the shortgrass prairie region of the state.

The park comprises 440 acres of land and recreational facilities ( Camp Map) situated around the 80-acre Meade State Fishing Lake.

Nature trails offer visitors an up close look at the shortgrass prairie ecosystem. Utility and primitive camping, day use areas, swimming beach, and boating and fishing access make this a popular destination. Campgrounds provide 42 water/electric utility sites and 150 primitive campsites.

The lake invites anglers to sample excellent fishing for bluegill, channel cat, crappie and largemouth bass. No skiing or pleasure boating is allowed; boats must be used for fishing purposes only.

The adjacent 360-acre wildlife area, although modestly sized, offers good opportunities for dove and quail hunters. Deer, turkey, rabbit and squirrel also inhabit the area and offer hunters an occasional mixed bag. Deer may be hunted only with bow or muzzleloader firearms.
---
Get directions
to this park: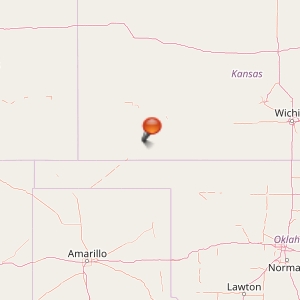 ---
---
Meade State Park13051 V RoadMeade, KS 67864(620) 873-2572 (Area Office)(620) 227-8609 (Region 3 Office)(785) 628-8614 (Region 1 Office)

FROM LIBERAL, KS:

1. Take 54 highway east, cross the Cimarron Bridge, go to the top of the hill where the passing lane ends, 2. Turn right on Meade Lake Road and the park is 17 miles.

FROM PLAINS, KS:

1. Turn south off of highway 54 on County Road 5 travel to blinking light, 2. Turn left on County Road V and it is 7 miles to the park.

FROM MEADE, KS:

1. Turn south on highway 23 and travel 8 miles south, make the curve and travel another 5 miles to the lake. The Lake has two entrances one on the north off of the hatchery road and one on the south off of highway 23.