MCCONNELLS MILL STATE PARK
McConnells Mill State Park, in Lawrence County, encompasses 2,546 acres of the spectacular Slippery Rock Creek Gorge. The park is open from sunrise to sunset, year-round.
Glacial History

If you stood at the Cleland Rock Vista (see the map for location and below for a photograph) 200,000 years ago, you would be standing on a ridge at a drainage divide. Water to the north flowed north and water to the south flowed south. If you stood at the same location about 140,000 years ago, you would be standing at the edge of a small lake dammed by several hundred feet of ice. The ice was the edge of a continental glacier that covered most of North America north of Cleland Rock. The glacier dam created small Lake Prouty by Cleland Rock. To the north was larger Lake Watts (modern Lake Arthur is a small recreation of Lake Watts) and further north was giant Lake Edmund.

Eventually Lake Prouty spilled over the ridge near Cleland Rock and began carving Slippery Rock Creek Gorge. As the glacier retreated, Lake Watts drained into the channel, enlarging and deepening the gorge, then Lake Edmund swiftly poured into the channel, scouring the gorge to over 400 feet deep. When the glacier finally retreated back to the north, Slippery Rock Creek Gorge was so deep that streams that normally flowed north, now flowed south, as the streams do today. The swift erosion of the gorge created its swift water and the many boulders that offer great challenges to modern whitewater boaters.

Which Rock is Slippery Rock?

Slippery Rock Creek is 49 miles long and full of slippery rocks, yet is named for one exceptionally slick rock below the Armstrong Bridge. It is believed that an Indian trail forded the creek at a shelf of sandstone near a natural oil seep, which made the rock exceptionally slippery, and gave its name to the creek, a town, a university, a rock formation and many local businesses. In the late 1800s, oil wells briefly flourished in the valley, but the oil was swiftly invaded by groundwater and the wells were abandoned. The oil wells drained the oil seep and the Slippery Rock is no longer covered in oil.

Slippery Rock Gorge Natural Area

The 930-acre Slippery Rock Gorge was designated a National Natural Landmark by the U.S. Department of the Interior in 1974 and became a State Park Natural Area in 1998. The steep-sided gorge contains numerous rocky outcrops, boulders, old growth forest, waterfalls and rare plants. Cleland Rock Vista is a great place to view the gorge.

Also part of the natural area, Hells Hollow has a wide array of wildflowers, waterfalls and habitats in addition to what can be found in the Slippery Rock Creek Gorge. A one-half-mile hiking trail leads to a cascading waterfall and an old limekiln.
No Camping: Camping is not available in the park. Information on nearby private campgrounds is available at the Moraine State Park office.
No swimming! Slippery Rock Creek is a very swift and dangerous whitewater creek. Many people have drowned in this dangerous creek. Nearby Moraine State Park has two swimming beaches.
---
Get directions
to this park: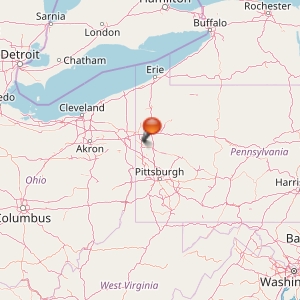 ---
There are two picnic areas adjacent to the parking area at the northern end of the gorge near the Old Mill. There are no pavilions in the park but the picnic areas have many shaded tables. Charcoal grills and restrooms are available in the picnic areas. Alcoholic beverages are prohibited.
The natural character of McConnells Mill State Park, the scenic gorge, waterfalls, rugged hiking trails and whitewater creek, are all directly caused by the geology of the area. The bedrock formed over 300 million years ago as layers of sand, mud and peat in what was a coastal area. After becoming rock, these different layers were lifted to the surface in several mountain-building events. The different strengths of these rocks cause them to erode differently, helping to make the varied landscape of the park. The gorge and the dramatic topography of the park were created by glaciers over the past two million years.
Guided tours of the restored gristmill are available from Memorial Day through Labor Day. The daily schedule of the Old Mill is from 10:30 a.m. to 5:30 p.m. Off-season tours are by appointment only.

Guided nature walks are conducted every Saturday and Sunday during the summer season. A variety of topics, settings and subjects are discussed and explored.
---
Area Campgrounds
Area Fishing Related Businesses
Roberson Sporting Goods
6348 Germantown Rd
Middletown, OH
(513) 422-4191


Birdseed's Bait Shop
3706 Tytus Ave
Middletown, OH
(513) 422-2429


Stony Meadows Fishing Lake
7798 W Alexandria Rd
Middletown, OH
(513) 422-5291


Triangle Fishing Lakes
7427 Franklin Madison Rd
Middletown, OH
(513) 422-0948


Hy-Blast Inc
70 Enterprise Dr
Middletown, OH
(513) 424-0704


Shooters Place
416 Constitution Blvd # F
New Brighton, PA
(724) 847-2097


Neshannock Creek Fly Shop
Main St
Volant, PA
(724) 533-3212


Slapp's Tire Service
301 Flower St
Chester, PA
(610) 874-7997


Z's Bait & Tackle
Route 92
Falls, PA
(570) 388-6801


Shenango China Hunting & Fishing Club
RR 5
New Castle, PA
(724) 657-0286


O Donnell's Sports Supplies
1765 Perry Hwy
Portersville, PA
(724) 368-3418


Moraine Fishing & Camping Ctr
2191 Prospect Rd
Prospect, PA
(724) 865-9318


Rogers' Rifle Rod & Reel
494 Mount Union Rd
Portersville, PA
(724) 368-8127


Wiley Lures
158 Stamm Hollow Rd
Ellwood City, PA
(724) 758-7092


Castlewood Rod & Gun Club
2964 Shaffer Rd
Ellwood City, PA
(724) 924-9010


Van's Sporting Goods
809 E Jefferson St
Butler, PA
(724) 287-0402


Bob Warren & Assoc Marine
139 Oneida Valley Rd
Butler, PA
(724) 285-5444


Mars Rod & Gun Club
141 Cashdollar Rd
Mars, PA
(724) 538-9392


Associated Hunting Consultants
7931 Franklin Rd
Evans City, PA
(724) 772-4868


West View Hunting & Fishing Club
20531 Route 19
Cranberry Twp, PA
(724) 776-3480


Indianola Rod & Gun Club Inc
121 Mcclelland Dr
Rochester, PA
(412) 767-5025


Area Resorts and Lodging
White Thorn Lodge
383 State Line Rd
Darlington, PA
(724) 843-9916


Bear Run Campground
184 Badger Hill Rd
Portersville, PA
(724) 368-3564


Locust Brook Lodge
179 Eagle Mill Rd
Butler, PA
(724) 283-8453


The park is about 40 miles north of Pittsburgh, via I-79, near the intersection of PA 19 and US 422.