MARSH CREEK STATE PARK
Marsh Creek State Park is in the rolling hills of northcentral Chester County. The 1,705-acre park contains the 535-acre Marsh Creek Lake, which is great for fishing, sailing and is a reststop for migrating waterfowl.
Marsh Creek State Park was developed to help manage the water resources in the Brandywine Creek Watershed, which drains 330 square miles, most of which are in Chester County.

Frequent flooding, water shortages and lack of recreational opportunities for nearby population centers were problems in the watershed.

The sponsoring agencies all shared the construction costs of the dam and lake. They were: U.S. Soil Conservation Service, Chester County Water Resources Authority, Chester County Commissioners, Chester County Conservation District, the General State Authority and the Pennsylvania Department of Environmental Resources (now the Department of Conservation and Natural Resources).

The Chester County Water Resources Authority and Chester County Commissioners paid for utility and road relocations.

The Chester County Water Resources Authority also acquired the land rights for the project. Subsequently, the Department of Environmental Resources acquired the land around the lake for recreation from the Water Resources Authority for approximately $1.1 million. Project 70 bond funds were used to acquire the land at this site.

The Commonwealth of Pennsylvania constructed and operates the recreational facilities.
There is no overnight camping at Marsh Creek State Park. Within one mile of the park is a privately owned campground on PA 282. French Creek State Park is 20 miles to the north and has year-round camping.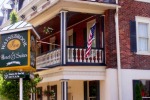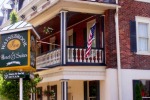 The accessible ?L? shaped swimming pool complex attracts many visitors. The guarded pools are open 11 a.m. to 7 p.m. from Memorial Day weekend until Labor Day unless posted otherwise. A shallow wading pool and swimming pool are available. A snackbar, sunning area and bathhouse are nearby. Fee charged for pool use.
Boating: electric motors permitted

The 535-acre Marsh Creek Lake has two boat launch areas and 220 seasonal mooring slips. The lake is especially popular with sailboaters who take advantage of the combination of good natural terrain and prevailing winds. Approved sailboat races draw spectators who enjoy the water activity from the lakeshore.

A boat rental concession at the East Launch offers rowboats, canoes and sailboats throughout the summer and weather permitting, on weekends during the spring and autumn.