LEHIGH GORGE STATE PARK
Lehigh Gorge State Park is administered by the Pennsylvania Department of Conservation and Natural Resources, Bureau of State Parks, and is in Luzerne and Carbon counties in eastern Pennsylvania. The park follows the Lehigh River from the outlet of the U.S. Army Corps of Engineers Francis E. Walter Dam at the northern end, to the town of Jim Thorpe at the southern end of the park. The deep gorge, steep walls and thick vegetation, rock outcroppings and many waterfalls characterize the entire park.
Settlement was sparse during the 19th century until loggers arrived and began felling trees and building sawmills. Famed naturalist and painter John James Audubon visited the area in 1829 and spent six weeks painting birds. He was distressed at how quickly trees were cut and shipped down river. The industrial revolution was just beginning in the area.

The discovery of anthracite coal at Summit Hill in 1791 caused intensive development and settlement of the upper Lehigh Valley. In the early 1800s, the need to transport increasingly large quantities of coal to markets down river led to the intensive development of canals. Between 1835 and 1838, a series of dams, locks, and canals was constructed by Josiah White and the Lehigh Coal and Navigation Company. White constructed 20 dams and 29 locks over the 26 miles between Mauch Chunk (now Jim Thorpe) and White Haven. Five and one-half miles of canal were also built. It was called the Upper Grand Section of the Lehigh Canal because the locks and dams were larger and far more impressive than the locks of other canals.

When severe flooding in the mid-1800s destroyed the canal system, it was replaced with the new technology of railroads. Remains of locks, dams and towpath are still evident in the Lehigh River Gorge.

Loggers continued to clearcut the huge white pine and hemlock trees for lumber and for the bark, which was used to tan hides. In the 1860s, the second largest tannery in the United States sat on the banks of the Lehigh River at the small town of Lehigh Tannery.

A terrible forest fire swept through the Lehigh Gorge area in 1875, burning the remaining standing timber, many sawmills and stockpiles of lumber. The sawmills closed and the loggers departed.

At the turn of the 20th century, railroads popularized the southern end of the canal as a resort called Glen Onoko. Hotel Wahnetah boasted 47 rooms, a dance pavilion, tennis courts, fresh air and hikes to the scenic Glen Onoko Falls. A fire in 1911 closed the hotel and a fire in 1917 ended the resort era. The gorge lay forgotten.

In the 1970s, the Commonwealth of Pennsylvania began purchasing parklands and in 1980 the land was turned over to the Bureau of State Parks.
---
Get directions
to this park: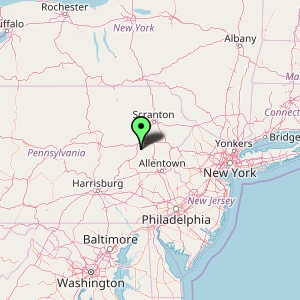 ---
The 26-mile Lehigh Gorge Trail is open for biking. Wide tires are recommended. Bicycle rentals and shuttle service are available throughout the area.

Hiking:

Hikers need to be aware that the Gorge is a natural area that possesses natural hazards like steep and treacherous terrain and fast-moving water. Hikers must protect themselves from life-threatening accidents. You are responsible for you and your family's safety. Wear proper hiking shoes and use extreme caution when hiking in the gorge.
A wide variety of environmental education and interpretive programs are offered April to November. Through hands-on activities, guided walks and campfire programs, participants gain appreciation, understanding and develop a sense of stewardship toward natural and cultural resources.
---
Area Campgrounds
Blue Ridge Campground Inc.
2489 West Lizard Creek Road
Ashfield, PA
570-386-2911


WT Family Camping Inc
Box 1486 Route 115
Blakeslee, PA
570-646-9255


Chestnut Lake Campground
Frantz Road
Brodheadsville, PA
570-992-6179


Indian Brave Campground
Route 19 North
Harmony, PA
724-452-9204


Jim Thorpe Camping Resort
129 Lentz Trail
Jim Thorpe, PA
570-325-2644


Pocono Raceway Campground
Clearview Road
Long Pond, PA
570-646-2300


Don Laine Campground
790 57 Drive
Palmerton, PA



Sunny Rest Resort
425 Sunny Rest Drive
Palmerton, PA
610-377-2911


Rosemount Camping Resort
285 Valley Road
Tamaqua, PA
570-668-2580


Sandy Valley Campground
199 Valley Road
White Haven, PA
570-636-0770


Area Fishing Related Businesses
Steve's Sporting Goods
239 W 11th St
Hazleton, PA
(570) 459-1885


Seventh Sense Fishing Products
4822 Blue Ridge Trl
Mountain Top, PA
(570) 868-6010


Bear's Head Fly Tying Shop
34 Walnut St
Delano, PA
(570) 467-2303


Keystone Fish & Hunt Club
421 N Nescopec St
Tamaqua, PA
(570) 668-0780


West Penn Rod & Gun Club
1047 Clamtown Rd
Tamaqua, PA
(570) 386-1123


B C Bait Inc
861 Indian Hill Rd
Lehighton, PA
(610) 377-5131


Palmerton Rod & Gun Club Inc
RR 1
Palmerton, PA
(610) 377-3404


Bowmanstown Rod & Gun Club
525 Club Rd
Palmerton, PA
(610) 852-4051


Slatington Skeet & Sporting Assoc
8112 Skeet Club Rd
Slatington, PA
(610) 767-0800


Kriss Pines Trout Fishing Lake
469 Forest St
Lehighton, PA
(610) 377-3010


Clover Hollow Hunting Preserves
6951 Lime Kiln Rd
Slatington, PA
(610) 767-3319


Hazleton Owls Rod & Gun Club
981 Grant St
Hazleton, PA
(570) 454-0942


Beaver Run Rod & Gun Club
RR 2
Lehighton, PA
(570) 386-4471


Area Resorts and Lodging
Beech Mountain Lakes
Route 309
Drums, PA
(570) 788-5071


Mountain Laurel Resort & Spa The
State Highway 940
White Haven, PA
(570) 443-8411


Harmony Lake Shore Inn
LK Hrmny
White Haven, PA
(570) 722-0522


Mountaintop Lodge
Route 940
Pocono Pines, PA
(570) 646-6636


Eagle Rock
1031 Valley of Lks
Hazleton, PA
(570) 384-3223


Eagle Rock Resort: Administration
RR 924
Sheppton, PA
(570) 384-3223


Sunny Rest Lodge
425 Sunny Rest Dr
Palmerton, PA
(610) 377-2911


Beechwood
RR 1
Lehighton, PA
(570) 386-4449


White Haven is the northern access area and can be reached off of Exit 273 of I-80. Follow PA 940 east to the Thriftway store. Go through the Thriftway parking lot and bear left to the state park access area.

Rockport is the central access area and can be reached from the south by following US 209 south from Jim Thorpe to PA 93 north, continuing to SR 2055 (Lehigh Gorge Drive), through Weatherly into the small village of Rockport at SR 4014. Rockport is accessible from the north by following PA 940 west from Exit 273 off I-80, left onto SR 2055 (Lehigh Gorge Drive) continuing to the small village of Rockport at SR 4014.

Glen Onoko is the southern access area and may be reached by taking Exit 74 of the Northeast Extension of the Pennsylvania Turnpike. Follow US 209 south to Jim Thorpe. Then take PA 903 north across the river to Coalport Road. Turn off of Coalport to Glen Onoko.