LAKE MANATEE STATE PARK
LAKE MANATEE STATE PARK
20007 Hwy 64 East
Bradenton, Florida   34202
Phone: 941-741-3028
Reservations: 941-741-3028
This park extends along three miles of the south shore of Lake Manatee, which serves as a water reservoir for Manatee and Sarasota counties. The rest of the park is primarily pine flatwoods and sand pine scrub with some depression marshes and hardwood forests. A boat ramp provides easy access to the lake; boat motors must be less than 20 horsepower. Canoeing and kayaking are also popular activities. The lake offers excellent freshwater fishing, and anglers can fish from their boats or from the park's fishing dock. Swimming is permitted in a designated area of Lake Manatee; a facility with showers is located nearby. A large picnic area is nestled in a sand pine scrub area near the lake. A picnic pavilion may be reserved for a fee. Campers can enjoy full-facility camping, just a short walk from the lake. Located 15 miles east of Bradenton on State Road 64.
The natural beauty of Lake Manatee State Park brings in several different species of wildlife. Some of the viewings have been bobcat, deer, quail, and gopher tortoises. See our birding list for a record of possible sightings.
FACILITIES AND ACTIVITIES OVERVIEW
Camping
Water/Electric Sites
yes
A 60-site camping area located within walking distance from the swimming and fishing areas. Water and electric is available on every site. A dump station is located at the entrance of the campground.
Swimming is available in the designated area in Lake Manatee with a bathhouse and shower facility located close by.
A boat ramp and fishing dock are available for visitors to use.

A Manatee County ordinance restricts boat motors to 20 horsepower or less. The ordinance also prohibits water-skiing.
Bring your own canoe or kayak and travel the shores of our 2,400 acres Lake Manatee. Scenic Lake Manatee serves as a wonderful wildlife viewing area which is easy to tour by canoe or kayak.
---
---
There are two shower facilities, with hot water, located in the campground. A rinse station is located at the restroom near the swimming area.

Swing set, teeter totters, slides, and climbing gym. Also available are horseshoe pits and a sand volleyball court. Visitors may bring their own equipment or rent our horseshoes and volleyballs for a nominal fee.
Picnic tables and grills nestled in a mesic flatwood habitat just a short walk from the lake. A pavilion is also available and may be reserved. Seating capacity for up to 75 people.
There are several trails located throughout the park. Stop by our ranger station to obtain the maps of our in-park trails or our multi-use Gopher Trail.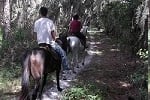 Riding Trails are located in the Alafia River Corridor Preserve directly behind the horse stables. Your trail ride will include a demonstration, followed by a one hour trail ride. Longer trail rides are available upon request.
26.3 miles from park*
---
Pets must be confined, leashed (not to exceed six feet in length) or otherwise under the physical control of a person at all times. Tethered pets must not be left unattended for more than 30 minutes. Quiet hours must be observed from 11:00 p.m. to 7:00 a.m. Pet owners must pick up after their pets and properly dispose of all pet droppings in trash receptacles. Pets are not permitted in park buildings, swimming, or fishing areas. Florida law requires that pets be vaccinated against rabies. Any pet that is noisy, dangerous, intimidating or destructive will not be allowed to remain in the park. Non-furbearing pets, such as reptiles, birds, or fish must be confined or under the physical control of the owner.
Take exit 220 off of I-75. Lake Manatee State Park is located 9 miles east of I-75 on State Road 64 in Bradenton, Florida.