LAKE HOPE STATE PARK
LAKE HOPE STATE PARK
27331 State Route 278
McArthur, Ohio   45651
Phone: 740-596-5253
Reservations: 866-644-6727
State Forest in the valley of Big Sandy Run. It is a rugged, heavily forested region traversed by steep gorges and narrow ridges. Abandoned mines, ancient mounds and beautiful scenery provide interest and pleasure for hikers, photographers, nature lovers and historians alike at one of Ohio's most historic and scenic state parks.
Lake Hope State Park is truly a nature lover's dream. In the forest-draped hills, the observant visitor can discover the abundant natural resources of this wild and scenic park.

Although most of the forest was cut to fuel the iron smelting industry that once flourished here, the land has recovered and supports a magnificent, second-growth forest. Oak and hickory are the dominant trees while the woodland floor harbors a fascinating assemblage of shrubs and wildflowers. The yellow lady's slipper, one of the rarest and most showy orchids, blooms in secluded hollows. Other spring wildflowers such as blue-eyed mary, bloodroot and wild geranium can be found in abundance.

Deer and wild turkeys are often seen in a number of park locations. Of the many animals inhabiting the park, none is as popular as the beaver. As nature's dam builders, the beavers are found in numbers and can be observed near the quiet inlets of the lake.
Though the roar of the iron furnaces no longer echoes through the hills of Vinton County, there are many reminders of days gone by at Lake Hope State Park. Situated at the heart of Ohio's Hanging Rock iron region, Lake Hope State Park reflects the rich history of much of southeastern Ohio.

The Hope Furnace was built here over 100 years ago to process the iron ore extracted from the region's sandstone bedrock. The iron resulting from the ore smelting process was used to produce many different items, including ammunition and cannon for the Union Army during the Civil War. Hundreds of men labored cutting timber, working the furnace and driving teams of oxen hauling iron ore to the furnace. Charcoal fires were tended 24 hours a day; so much wood was required for this process that the surrounding hillsides were almost completely stripped of their timber. At the height of the Hope Furnace's production, Ohio was one of the nation's leading producers of iron. As time passed, iron ore was discovered farther west and Ohio's reputation as a major iron producer waned.

By 1900, nearly all of the major furnaces in southern Ohio were shut down. Today, the Hope Furnace chimney and some of the foundation are all that remain of the structure. In the vicinity of the chimney, one may find pieces of slag, the cast-off residue from the smelting process. These pock-marked, glass-like pieces have now become a part of the forest floor. The forest we now see is one that has grown back where hundreds of years ago a primeval forest once stood.

For a time, coal was an important Vinton County export. A number of mines tunneled into the hills and large quantities of coal were transported out in ox-drawn coal cars. Most of the mines were abandoned early in this century.

Lake Hope Forest Park was created in 1937 by the Division of Forestry. The Division of Parks and Recreation and Lake Hope State Park came into existence in 1949.
FACILITIES AND ACTIVITIES OVERVIEW
Nearby State Forest, acres
26824
Nearby Wildlife Area, acres
1361
Mountain Bike Trails, miles
25
Youth Group Camp, capacity
100
Accommodations
Lodge Rooms
yes
A beautiful 119-site campground is suitable for tents or trailers. The campground includes heated showerhouses, pit latrines, waste disposal, laundry facilities, picnic tables and fire rings. Forty-six sites have electric hookups. Three Rent-A-Camp units consisting of a tent, dining fly, cooler, cook stove and other equipment, and two camper-cabins can be rented during the summer months by reservation. Pets are permitted. A group camp is available for organized groups on a reservation basis. A horsemen's camp is offered for bridle trail users in Zaleski State Forest.
The rustic dining lodge, built of native stone and lumber, offers a spectacular view of the lake. The dining lodge features The Stone Terrace Restaurant, meeting room, General Store, as well as lodge and cottage reservation office. Souvenirs and firewood are available for purchase. Restaurant and meeting room reservations may be made by calling 740-596-0400.
Great for a private relaxing get away. Whether you are looking for rest and relaxation with that special someone, or the best cook-out for family and friends Haven Inn The Hills is the answer for you.
11.8 miles from park*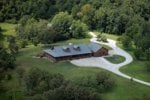 Mesa Vista Lodge offers 4200 sq. ft. of luxury living with 8 bedrooms, 4 full baths, 2 gas log fireplaces, massive kitchen/dining/great room with cathedral ceiling, 8-10 person hot tub and 2400 sq. ft. of covered walk-around porch.
8.9 miles from park*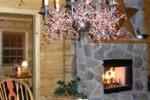 This is not your typical cabin in the woods and you aint gonna be roughing it. Its a log home lovingly furnished to make you feel spoiled. From the moment you enter, youll realize that youve found your dreamscape. Beautiful, tranquil music playing the background feel free to take the CD home with you, luxurious amenities all around you, a soothing, private hot tub overlooking the forest and a bottle of champagne chilling next to the flick-of-a-switch gas fireplace. Oh yes, you have arrived And we promise youll wish you never had to leave.
13.5 miles from park*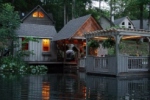 The privacy and beauty of a woodland paradise with the comforts and amenities of the Hocking Hills finest accommodations. Amenities include, Absolute privacy, Gourmet Kitchen, Stone fireplace in family room and master bedroom, Artist-designed furniture, Private Cabana with deluxe hot tub, custom bar and stereo.
5.6 miles from park*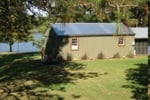 A lakeside retreat in the beautiful Hocking Hills on scenic Lake Logan. Full kitchen, Hot Tub, Satellite HD TV, sitting room, breakfast nook, and electric AC/Heat.
15 miles from park*
May 2
Youth Fishing Tournament - Lake Hope
Bring your youngsters for this free youth fishing tournament at the Lake Hope State Park Dam. Cookout at the Lake Hope Shelter House afterwards.
Lake Hope State Park
July 11
Annual Hummingbird Banding - Lake Hope
Join Hummingbird expert and researcher Allen Chartier and learn about hummingbirds and hummingbird research.
Meet at the Lake Hope Nature Center at 9am.
For more information: (740) 596-3030
October 17
Annual Fall Hike - Lake Hope
Three-mile guided hikes begin at the Shelter House and end at the Hope Furnace with bean soup and cornbread. Shuttles return you to your car. (740) 596-3030.
October 31
R.O.A.R Days - Lake Hope
Celebrate Appalachian culture through crafts, music and food.
Regional artists will demonstrate their skills and sell their wares.
(740) 596-3030.
A fine swimming beach is located near the dam. Facilities include a bathhouse with restrooms, showers and change booths and a concession building where food and beverages can be purchased.
Boats with electric motors only may be used on the 120 acre lake. Canoes and rowboats are available for rent at the beach concession, mid-May through October.