KITTATINNY VALLEY STATE PARK
Glacial lakes, limestone outcroppings, former railroads, and a small airport are features of Kittatinny Valley State Park. Lake Aeroflex and Gardner?s Pond form part of the headwaters of the Pequest River and are excellent for fishing and boating. This scenic property is home to a variety of wildlife such as whitetail deer, wild turkey, a variety of songbirds, beaver, muskrats, and squirrels.

Hunting, hiking, mountain biking, birding, and horseback riding are popular activities. The four lakes offer fishing, boating, and kayaking opportunities.

The Paulinskill Valley Trail and the Sussex Branch Trail are former railroads that have been converted for use as multiple use trails. Both railroads were critical to the development of Sussex County through the late 1800?s and early 1900?s. The wide cinder surface is ideal for walking, running, mountain biking, and horseback riding. When snow conditions are abundant, these trails provide and excellent opportunity for cross-country skiing, and snowshoeing. You might even see a musher and his dogsled team running down the trail!

Kittatinny Valley State Park and rail trails are open during daylight hours only. The Lake Aeroflex boat ramp is open 24 hours for fishing from boats.
Brown trout, rainbow trout, largemouth bass, bluegills, landlocked salmon, and assorted panfish.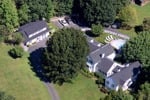 ---
---
A small number of picnic tables and grills are available near the parking area adjacent to Limecrest Road. Other picnic tables are scattered through the park.
Trails in the park vary in difficulty and terrain from the gravel roads that are walked and biked by many to the technical terrain enjoyed by hard-core mountain bikers. Single track trails and gravel roads are suitable for hiking, mountain biking, cross-country skiing, snowshoeing, and horseback riding. A 2-mile self-guided nature trail provides a brief introduction to the park?s natural and cultural resources. Motorized vehicles are not permitted on any park trails.

Paulinskill Valley Trail

For most of its 27 miles, the trail passes through rural landscapes, northern deciduous forests and wetlands, and small towns in Warren and Sussex Counties. The trail cuts under the majestic Hainseburg viaduct, once part of the Erie Lackawanna Railroad. The trail has a wide, firm cinder base suitable for hiking, biking, horseback riding, and cross-country skiing. Over 100 different species of birds are identified in and along the trail corridor in an annual bird census conducted by members of the Paulinskill Valley Trail Committee. Six bridge crossings of the Paulinskill River provide scenic views of the river and some fishing access. Monthly hikes on the Paulinskill Valley Trail are sponsored by the Paulinskill Valley Trail Committee, (908) 684-4820.

Sussex Branch Trail

This 20-mile trail skirts swamps, lakes, fields and several small communities. The trail corridor exhibits many features of the trail?s former existence as a railroad. Among them are graded fill areas, cuts through bedrock, underpasses that allow the passage of farm equipment and dairy cattle from one side of the tracks to the other, and bridges crossing the Pequest or Paulinskill Rivers. The flat cinder base of the trail permits multiple uses including hiking, horseback riding, biking, cross-country skiing and dog sledding. The trail provides access for fishing and for wheelchairs in certain areas. The Sussex Branch Trail also crosses through Allamuchy Mountain State Park.

General Rail Trail Information

On rail trails, grades are minimal and there is access for people with disabilities in some areas. Motorized vehicles are not permitted on either trail. These trail corridors are narrow and lands beyond the trail corridor are generally privately owned. Please stay on the trail. Be aware of hunting seasons during the Fall and Winter as adjacent private or public lands may be open for hunting. As a courtesy, hikers/walkers should yield to bikers and all should yield to horses. Bikers should also give a verbal or bell warning to hikers or horses before overtaking them on the trails.
The park offers a variety of interpretive and educational programs on a year-round basis. Nature hikes, mountain bike rides and talks are conducted by the park naturalist or an invited guest speaker and are scheduled each weekend during the Spring and Summer seasons. Programs are also scheduled during the Fall and Winter, but with less frequency. Check the Calendar of Events for Kittatinny Valley State Park's current programs.

Bursting with vibrant colors, Kittatinny Valley State Park is home to an award winning Butterfly and Hummingbird garden.

Junior Naturalist Workbook and Program Series

Calling all kids ages 7 through 12! Do you like to be outdoors? Do you like to have fun? Then stop by the park visitor center to find out how you can become a Kittatinny Valley State Park Junior Naturalist!
* Park Programs * Trails * Fishing * Hunting * Picnicking * Mountain Biking * Boating/canoeing: electric motors only * Winter sports: cross-country skiing, dog sledding * Aeroflex-Andover Airport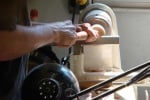 ---
Area Campgrounds
Green Valley Beach Campground
68 Phillips Road
Newton, NJ
973-383-4026


Mountain Shadows Lake Association
946 Owassa Road
Newton, NJ
973-383-5008


Fla-Net RV Park
20 Flanders Netcong Road
Flanders, NJ
973-347-4467


Panther Lake Camping Resort
6 Panther Lake Road
Andover, NJ



Harmony Ridge Farm & Campground
23 Risdon Drive
Branchville, NJ
973-948-4941


Kymer's Camping Resort
69 Kymer's Road
Branchville, NJ



Goodland Country Club and Spa
Drakestown Road
Hackettstown, NJ
908-850-1300


Windy Acres Campground
294 Newton-Swarstwood Road
Hampton, NJ
973-897-8695


Beaver Hill Campground
120 Big Spring Road
Hardyston, NJ
973-827-0670


Mahlon Dickerson Reservation
995 Weldon Road
Lake Hopatcong, NJ
973-663-0200


To the park office: From Route 80, take Route 206 north approximately 8 miles through Andover Borough. Turn right onto Goodale Road and follow it approx.1 mile to the park entrance on the right.
Aeroflex-Andover Airport

The airport located within the boundaries of Kittatinny Valley State Park is owned by the State of New Jersey and operated by the New Jersey Forest Fire Service. It is used as a general aviation airport. Airplane watching is a popular pastime. During fire seasons, the airport serves as an air attack base to facilitate aerial attacks on forest fires using helicopters and commercial spray planes for water drops on forest fires. Aeroflex-Andover Airport is operated by the NJ Forest Fire Service as a general aviation airport and as a base for aerial forest fire suppression. (973) 786-5100.

Please be aware that in an effort to comply with the NJDOT, Division of Aeronautics regulations at the Aeroflex-Andover Airport and to enhance the safety of visitors to Kittatinny Valley State Park, gates have been installed at the north end of the airport. Visitors will no longer be permitted to cross the runway along the southern shore of Lake Aeroflex. The gates are closed to all pedestrians, cyclists and horseback riders. Visitors may still enjoy the use of the Lake Aeroflex boat ramp and the adjacent picnic area via the Limecrest Road entrance. The park?s trails, office and other facilities are accessible via the main park entrance on Goodale Road. Call the park office with any questions at (973) 786-6445.