JENNY WILEY STATE PARK
This mountain resort is named for the legendary pioneer woman, Jenny Wiley. Taken captive by Indians in 1789, Wiley endured the slaying of her brother and children and escaped after 11 months of captivity. Imagine our heroine eluding her captors as you hike the trails that weave through the wilderness.

Jenny Wiley State Resort Park is sure to offer something for everyone. With both 1,100-acre Dewey Lake and an Olympic-size swimming pool, the park is a water lover's paradise. If swimming, fishing or boating isn't your style, consider taking in a Broadway-style show at the popular Jenny Wiley Theatre.
FACILITIES AND ACTIVITIES OVERVIEW
Camping
Full Hookup Sites
yes
Enjoy the great outdoors in the 117-site campground. Utility hookups, two central service buildings with showers and rest rooms, a grocery store, and a dump station are available for your convenience.

Open April 1-October 31. Pets are allowed if restrained.
For private accommodations, enjoy a one or two-bedroom cottage. Tableware, cooking utensils, and linens are provided, with fresh linens available daily.

Cottages are available by late afternoon. Check-out by 11:00 AM.
---
Get directions
to this park: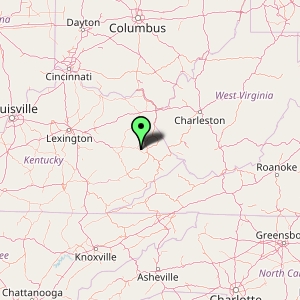 ---
Acquaint yourself with the natural beauty of Jenny Wiley State Resort on the hiking trails. The trails provide over ten miles of hiking for all ability levels.The Jenny Wiley Trail Heritage Byway embraces a 154-mile loop drive in Eastern Kentucky. The route provides easy access to more than 60 miles of existing recreational facilities, such as hiking trails.
Performing Arts

Jenny Wiley is a showplace for the performing arts! The Jenny Wiley Theatre presents summer musicals in the parks amphitheatre. In 2004, "Wizard of Oz", "Big River", & "Driving Miss Daisy" were presented.

The season runs June 6 through August 21.Tickets are around $15 adult; $13 senior; and $8 student.Performances begin at 8:15 pm.All performances, times and prices are subject to change without notice.For latest Information and reservations:Jenny Wiley Theatre (606)886-9274or toll-free: 877/ CALL-JWT (877-225-5598) www.jwtheatre.comThe Mountain Arts Center in Prestonsburg is the home of & Kentucky Opry & and year-round performing arts. Information and reservations: (606)886-2623 or1-888-MAC-ARTS (1-888-622-2787). www.macarts.com

Gift Shop

Browse the lodge gift shop, offering a large selection of Kentucky handcrafts and souvenirs.
---
Jenny Wiley is located in Prestonsburg, off US 23/460 on KY 3. From I-64 West take the Mountain Parkway exit. From I-64 East take the US 23 South Exit. From I-75 north, take the Daniel Boone Parkway exit. From I-75 south, take the I-64 East exit. Here is an area map.