HOLLAND STATE PARK
HOLLAND STATE PARK
2215 Ottawa Beach Road
Holland, Michigan   49424-2344
Phone: 616-399-9390
Reservations: 800-447-2757
There are two modern campgrounds; one found in each unit of the park. The Lake Macatawa campground is a traditional campground offering 211 campsites, the Beach Campground is nestled between sand dunes with 98 paved campsites and 31 full hook-up sites. Both campgrounds are within 50? of swimming beaches and Lake Macatawa Campground is only ? mile from Lake Michigan. Metal detecting area. a New camper cabin, The?Whitetail? has a view of the Holland channel and the ?Big Red? lighthouse. It accommodates six people, and includes a refrigerator, microwave, coffee pot and electric heat. Outside the cabin, visitors will find a picnic table, grill and fire circle. This fully accessible camper cabin has three rooms and an outside deck that extends the cabin living space into the beautiful surroundings. With the cabin being available year round, we may inspire some campers to ?GO-Get Outdoors? and view the majesty of Holland and Lake Michigan in the off seasons.?
The park was acquired from the City of Holland in December 1926. Since then it has been intensively used for its great beach and excellent campgrounds.
Holland-Beach Modern(800) 447-2757 98 site(s)Electrical Service, Modern Restrooms

Holland-Lake Macatawa(800) 447-2757 211 site(s)Campsites with 50 amp Service, Electrical Service, Modern Restrooms, Swimming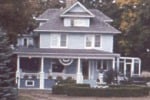 Country Four Square built around 1900. All private bath, full gourmet breakfast 8-10AM, rooms have fireplaces and Jacuzzi tubs, WiFi, Robes, Non-smoking, Pet Friendly. Discounts Monday-Thursday. AAA, AARP discounts always.
13.9 miles from park*
The shore of Lake Michigan provides a great area for swimming and a beautiful beach for sun bathing and sunsets.
While there is no access site within the park, access to Lake Macatawa and Lake Michigan is located one mile east of the park.