HOCKING HILLS STATE PARK
HOCKING HILLS STATE PARK
19852 State Route 664 S
Logan, Ohio   43138
Phone: 740-385-6842
Reservations: 866-644-6727
Hocking Hills provides a variety of recreational opportunities in a splendid natural setting. Towering cliffs, waterfalls and deep hemlock-shaded gorges lure the hiker and naturalist and serve as a backdrop to popular facilities and accommodation.
The natural history of this region is as fascinating as the caves are beautiful. Here, in these sandstones and shales, one can read Ohio's history from the rocks. The scenic features of the six areas of the Hocking Hills State Park complex are carved in the Blackhand sandstone. This bedrock was deposited more than 350 million years ago as a delta in the warm shallow sea which covered Ohio at that time. Subsequent millions of years of uplift and stream erosion created the awesome beauty seen today.

The sandstone varies in composition and hardness from softer, loosely cemented middle zone to harder top and bottom layers. The recess caves at Ash Cave, Old Man's Cave and Cantwell Cliffs are all carved in the softer middle zone. Weathering and erosion widened cracks found in the middle layer of sandstone at the Rock House to create that unusual formation.

Other features of the rock include cross-bedding, honeycomb weathering and slump blocks. The first is noticeable as diagonal lines in the rock intersecting horizontal ones. It is actually the cross section of an ancient sand bar in the delta and was caused by changing ocean currents. Honeycomb weathering looks like the small holes in a beehive comb. They are formed by differential weathering which comes about when water, moving down through the permeable sandstone, washes out small pockets of loosely cemented sand grains. Finally, the huge slump blocks of rock littering the streams tumble from near by cliffs when cracks widen to the extent that the block is no longer supported by the main cliff.

Although the glaciers never reached the park areas, their influence is still seen here in the form of the vegetation growing in the gorges. The glaciers changed the climate of all Ohio to a moist, cool environment. Upon their retreat, this condition persisted only in a few places such as the deep gorges of Hocking County. Therefore, the towering eastern hemlocks, the Canada yew and the yellow and black birch tell of a cool period 10,000 years ago.
The hollows and caves of the park complex have long attracted the peoples of Ohio. Evidence of the ancient Adena culture illustrates man first inhabited the recesses more than 7,000 years ago.

In the mid 1700's several Indian tribes traveled through or lived here including the Wyandot, Delaware and Shawnee. Their name for the river from which the park gets its name was Hockhocking of "bottle river." The name comes from the bottle-shaped valley of the Hocking River whose formation is due to its one-time blockage by glacial ice.

After the Greenville Treaty of 1795, Numerous white settlers moved into the region and Hocking County was organized in 1818. The area around the parks began to develop in 1835 when a powder mill was built near Rock House and a grist mill was constructed at Cedar Falls.

The cave areas were well-known as scenic attractions by 1870. In 1924, the first land purchase by the state was made to preserve the scenic features. This first parcel of 146 acres included Old Man's Cave. Subsequent purchases built acreage while the areas existed under the Department of Forestry as State Forest Parks. The Department of Natural Resources was created in 1949 and the new Division of Parks assumed control of the Hocking Hills State Parks assumed control of the Hocking Hills State Park complex which today includes the six park areas. A dining lodge and cottages were opened in 1972. These cottages, together with a campground, provide overnight facilities in one of the most beautiful areas of our state.
FACILITIES AND ACTIVITIES OVERVIEW
Nearby State Forest, acres
9238
Rappelling/Rock Climbing
yes
Youth Group Camp, capacity
140
Accommodations
Family Cottages, #
40
The 40 gas-heated, family housekeeping cottages sleep up to six persons. They have two bedrooms (one with two twin beds; one with a double bed), bath with a shower, living room with a trundle sofa, gas-burning fireplace, microwave, complete kitchen, dining area and screened porch.
The dining lodge contains a restaurant, meeting rooms, TV lounge, game room, snack bar and an outside swimming pool. There are no sleeping facilities at the lodge. The park office, also located inside the lodge, is open year-round.
The family campground is situated on a wooded ridge and is open year-round on a first-come, first-served basis. Reservations are required for the group camp areas which allow tents only. There are also 30 walk-in family sites with pit latrines.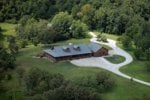 Mesa Vista Lodge offers 4200 sq. ft. of luxury living with 8 bedrooms, 4 full baths, 2 gas log fireplaces, massive kitchen/dining/great room with cathedral ceiling, 8-10 person hot tub and 2400 sq. ft. of covered walk-around porch.
11.9 miles from park*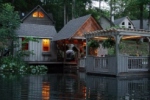 The privacy and beauty of a woodland paradise with the comforts and amenities of the Hocking Hills finest accommodations. Amenities include, Absolute privacy, Gourmet Kitchen, Stone fireplace in family room and master bedroom, Artist-designed furniture, Private Cabana with deluxe hot tub, custom bar and stereo.
9.9 miles from park*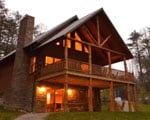 A spectacular, one-of-a-kind log home in the scenic Hocking Hills. Stunning solid walnut flooring. A grand great room with huge windows and a two-story stone fireplace. A spectacular recreation area with pool table, home theater, and a large hot tub right outside.
9.4 miles from park*
Great for a private relaxing get away. Whether you are looking for rest and relaxation with that special someone, or the best cook-out for family and friends Haven Inn The Hills is the answer for you.
2.8 miles from park*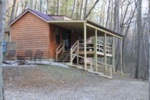 Close proximity to Old Man's Cave and Ash Cave, both very popular tourist attractions in the Hocking Hills area. Our cabins are perfect if you are looking for a place to enjoy a relaxing getaway in the Hocking Hills Region, with fire pits, hot tubs, outdoor grilling, hiking, picnicking, fishing, and hunting.
4 miles from park*
October 15
Grandma Gatewood''s Fall Color Hike - Hocking Hills
Bring along a cool drink and celebrate the season''s colors.
Meet with the naturalist at the Old Man''s Cave Visitor Center at 1pm for a strenuous hike that spans roughly 6 miles of the Grandma Gatewood Trail.
We will be traversing the section that runs from Old Man''s Cave to Cedar Falls and back while enjoying the scenic beauty and cultural personality.
This hike includes several hills and steps and is not recommended for the easily winded individual.
October 28 - October 30
Hallowen Campout - Hocking Hills
Join with the Haunted Hocking "HHIT" team as they search for the unexplained at Ash Cave, or try your hand at pumpkin decoration.
Registered campers and cabin guest can enjoy a hayride, a family-fun spooky movie, site decoration contest, and trick-or-treat at Old Man''s Cave campground.
Regular camping and cabin fees apply.
The swimming pool outside the dining lodge is free to cottage guests 11 a.m. to 6 p.m. daily, Memorial Day to Labor Day, and open to the general public for a small daily fee. Special evening swims are often offered at an additional fee. Registered campers only may use the outdoor pool in the family campground.
A valid Ohio fishing license is required to fish in Rose Lake. Access is off State Route 374 via a 1/2-mile hiking trail.