GUNPOWDER STATE PARK
Gunpowder Falls State Park (nearly 18,000 acres in Harford and Baltimore Counties) was established to protect the stream valleys of the Big and Little Gunpowder Falls and the Gunpowder River, which begins at Days Cove where the Big and Little Gunpowders converge. A variety of topography exists in this long, narrow park, from tidal marshes and wetlands to steep, rugged slopes.

There are more than 100 miles of trails, including the 21 mile Northern Central Railroad (NCR) Trail. The park features excellent trout fishing opportunities, as well as other freshwater and tidal fishing areas. Park areas include Hereford Area, along York Rd. in Parkton; the NCR Trail which extends from Ashland to the Pennsylvania line; the Central Area which extends from Baldwin to Days Cove along both river valleys and includes the historic village of Jerusalem; the Hammerman Area which is located in Chase near the intersection of Eastern Avenue and Grace Quarters Road and offers a swimming beach on the Gunpowder River; and Dundee Creek Marina, also located in Chase which offers boat launching, rowboat rental, fuel and a marina store.
FACILITIES AND ACTIVITIES OVERVIEW
The Hammerman Area offers 1,500 feet of beach and swimming area on the banks of the Gunpowder River. The swimming area is supervised by lifeguards from Memorial Day to Labor Day. Swimming is permitted at your own risk when lifeguards are not on duty. Three picnic shelters are available for rental. The area also has a food concession, picnic tables and grills, playground equipment and a windsurfing beach.
---
Get directions
to this park: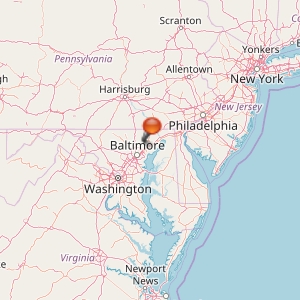 ---
This 21 mile abandoned railroad bed makes an ideal surface for hikers, bikers and horseback riders to enjoy. Points of natural and historic interest can be found along the way, including the restored Monkton Train Station, which serves as a museum, gift shop and Ranger Station to visitors on the NCR. The Monkton Station is open Wednesday through Sunday from Memorial Day to Labor Day. The Station is also open on weekends in the spring and fall. The Sparks Bank Nature Center is also located on the NCR Trail. Operated by park volunteers, the Nature Center is open on summer weekends from 10 a.m. to 4 p.m. and is available to school groups on request.
---
Area Campgrounds
The park is in Harford and Baltimore Counties, Park headquarters is at 2813 Jerusalem Road in Kingsville, Harford County.