GRAYSON HIGHLANDS STATE PARK
The park is adjacent to the Mount Rogers National Recreation Area, a part of Jefferson National Forest. Grayson Highlands State Park was originally named Mount Rogers State Park and was established in 1965. While pets are allowed in the park, they are not allowed inside public facilities including the bathhouses, visitor center and office.
Grayson Highlands, originally named Mount Rogers State Park, was established in 1965. The community overwhelmingly supported this park, beginning with a fund-raising effort for land acquisition and continuing with the donation of items on exhibit in the visitor center. Many areas in the park are named after early settlers. Massie Gap takes its name from Lee Massey, who lived in the gap with his wife and five children in the late 1800s and early 1900s. At that time, the present park area was thinly settled by people who managed to live off the land. They made, grew or gathered most of their necessities.

Wilburn Ridge is named after the famed hunter Wilburn Waters. His reputation as a bear hunter and wolf trapper made him renowned throughout the region.
FACILITIES AND ACTIVITIES OVERVIEW
---
---
The picnic area is next to a rebuilt homestead site, complete with two log cabins, a spring-house and a cane mill. Picnic facilities include drinking water, grills and restrooms. Picnic shelters are available by reservation on a first-come, first-served basis by calling the Reservation Center at 1-800-933-PARK.

Grayson Highlands State Park Picnic Shelters

Two shelters are available for rent. They can be rented from 8 a.m. to 10 p.m. (all day). Click here for park fees.

Cancellation policy: No refund within 14 days before reserved date. Before then, there's a cancellation fee.

Amenities: Both shelters have grill, picnic tables and access to restroom.

Shelter one: Located in main picnic area. A water fountain and electric hookup is available at the shelter. Shelter can accommodate 100 people under the shelter. Seating for an additional 100 people is available around the shelter.

Shelter two: Located next to homestead cabin. Shelter is referred to as the Barn. No adjacent parking is available. Shelter can accommodate 100 people under the shelter. Seating for another 100 is available around the shelter.
Hiking, bicycle trails (mountain bikes only), horse trails, self-guided trails

Bridle trails: More than two miles of bridle paths wander through the park. These paths also lead to bridle trails in Jefferson National Forest. Parking facilities for horse trailers and overnight stables are available at the park. The park does not provide horses for trail rides.

Hiking trails: The park has nine hiking trails averaging a mile in length. These trails lead to panoramic vistas, scenic waterfalls and a 200 year old pioneer cabin. The park also offers access to the Appalachian Trail and trails in the surrounding Jefferson National Forest. A list of trails and their mileage follows this section on Grayson Highlands State Park.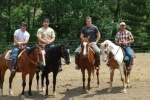 Enjoy wooded trails, old farm fields, valley views along Bull Head Mountain, and southern hospitality. Whether you are an experienced cowboy or a little green, our skilled staff and gentle horses make for a pleasant visit. Also offering overnight camping trips with breakfast prepared the next morning. Call for reservations.
16.3 miles from park*
---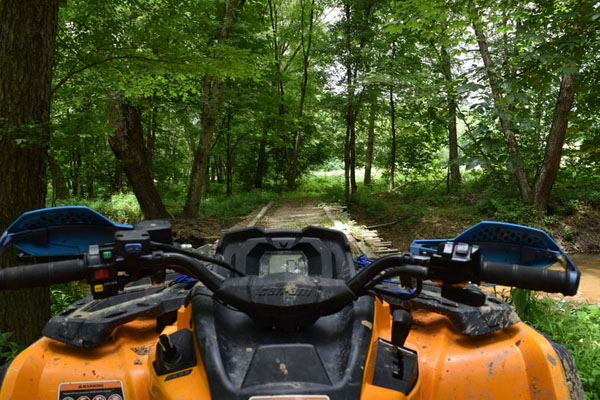 Perfectly situated atop of the Little Brushy Mountains sorrounded by vistas of lovely green pastures, the Great Escape is a retreat unlike many others. The peae and serenity is unlike no other and it gives you that chance to unwind and relax.
36.1 miles from park*
The park is on U.S. 58 midway between Independence and Damascus and is reached from I-81 at Exit 45 in Marion; turn south on Route 16 and travel 33 miles to US 58 in the community of Volney. Turn right onto US 58. Travel eight miles to the park's entrance.

From I-77, take Hillsville Exit 14 to U.S. 58. Travel west on U.S. 58, 40 miles to Volney. Turn left to stay on U.S. 58 and go eight miles to the park entrance.