FORT PILLOW STATE PARK
FORT PILLOW STATE PARK
3122 Park Road
Henning, Tennessee   38041
Phone: 731-738-5581
The 1,642 acre Fort Pillow, located in Lauderdale County on the Chickasaw Bluffs overlooking the Mississippi River, is rich in both historic and archaeological significance. In 1861, the Confederate Army built extensive fortifications here and named the site for General Gideon J. Pillow of Maury County. Because of its strategic location, the fort was taken by the Union Army who controlled it during most of the war. Remains of the earthworks are well-preserved.
Fort Pillow State Historic Park has been designated as a Wildlife Observation Area by the Tennessee Wildlife Resources Agency. Interpretive signs identify certain species and their habitat. The park provides sanctuary for deer, turkey, and is frequented by bird watchers.

The Anderson-Tully Wildlife Management Area borders the park on the north and is only a 10-minute drive from the family camping area. The Tennessee Wildlife Resources Agency manages this popular hunting and fishing area. No hunting is allowed on park property.
The rustic campground has 38 campsites and is designed primarily for tent camping. None of the sites are equipped for RV's. There are no electrical or water hook-ups. Water is available at water stations. Tent camp sites will accommodate small popups and R.V.'s may park in front of the site. Each campsite has a grill/campfire pad; a picnic table, and pea gravel for tent set-up, a roomy forest setting, and full-service bathhouse. Campers may register at the office or staff will come by. There are 2 bathhouses (one being accessible to persons with a disability) and a small laundry. Firewood is available from dead fallen limbs and trees. The trail to backcountry camping is hilly and moderately difficult. Total trail is five miles long. From the Visitor Center parking lot to the campground is 1/2 mile.

Backcountry camping is allowed and a permit is required.
A boat ramp is available to the general public but there are no rental boats at the park. Only fishing boats and canoes are allowed. Electric trolling motors are allowed on the 15-acre lake; gas motors must adhere to a "No Wake" policy.

Fort Pillow Lake is stocked with bass, bream, crappie and catfish. A valid Tennessee Fishing License is required.
---
Get directions
to this park: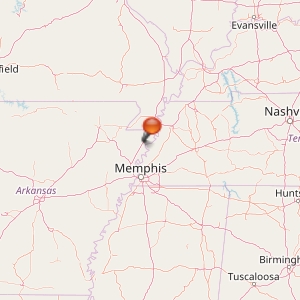 ---
A picnic area overlooking Fort Pillow Lake provides the visitor with tables, grills, a water fountain, restrooms and playground.

There is one centrally located picnic pavilions may be reserved and are ideal for family reunions. The pavilion may be reserved up to one year in advance.
Most of the interpretive programs at the park are devloped to enhance the understanding of the American Civil War as it relates to the occupation of both Confederate and Union forces at Fort Pillow. Nature and recreational programs are presented during the summer months or upon request.

Programs Available:

Civil War Battle of Fort Pillow (12 minute video)

Haversack: Soldiers Life & Talk

Weapons of the Civil War

Construction of Fortifications

Owl Prowls (seasonal)

Nature Walks (seasonal)

Living History Encampment (seasonal)

Cannon Firing (seasonal)

Junior Ranger
Museum:

The park Interpretive Center/Museum is open from 8 a.m. - 4 p.m. daily and year round with the exception of Thanksgiving, Christmas Eve and Christmas Day. There is no entrance fee. Visitors will find displays of Civil War artifacts and interpretive displays. There is a 12 minute video on the 1864 Battle shown by request. Tours of the museum and restored fortifications are available upon request.
---
Area Campgrounds
Mallard Ridge Mobile Estates
127 Mallard Pointe Rd
Atoka, TN
(901) 837-8160


Fort Pillow State Historic Pk
3122 Park Rd
Henning, TN
(731) 738-5581


Rose of Sharon Campground
40 Victory Cir
Burlison, TN
(901) 837-7095


Area Fishing Related Businesses
James Bait & Hardware
4286 N State Highway 239
Blytheville, AR
(870) 762-2189


Williams Bait Tackle Shop
3001 W Main St
Blytheville, AR
(870) 780-6684


Glenn Springs Lake Store
284 Grimes Rd
Drummonds, TN
(901) 835-5253


Turn west off of I-40, Exit 66 onto US 70. In Brownsville, turn right on State Highway 19. Follow Highway 19 into Ripley to State Highway 51. Turn South on Hwy. 51 to Henning, turn west onto Highway 87. Turn right on State Highway 207 East onto Park Road.