FORT CUSTER STATE PARK
FORT CUSTER STATE PARK
5163 W. Fort Custer Drive State Highway M-96
Augusta, Michigan   49012
Phone: 269-731-4200
Reservations: 800-447-2757
Fort Custer Recreation Area comprises 3,033 acres located between Battle Creek and Kalamazoo. The terrain is typical of southern Michigan farm country, with second growth forests and remnant areas of prairie. Prairie restoration is in progress with excellent results. The area features three lakes, the Kalamazoo River and an excellent trail system. Originally farmland, the area was acquired by the federal government to establish Camp Custer, an induction and military training center for the US Army during WWII. The land was deeded to the State of Michigan under President Nixon's Legacy of Parks in 1971.
Fort Custer-Group Use Area(269) 731-42002 site(s), Contact the parkGroup Use Area, Rustic Site, Vault Toilet

Fort Custer-Modern(800) 447-2757219 site(s)Electrical Service, Mini Cabin, Modern Restrooms

Fort Custer-Rustic Cabins(800) 447-27573 site(s)Vault Toilet
Access sites are available on Whitford, Lawler and Eagle lakes. No wake rules are enforced. Eagle Lake has a barrier-free dock and all launch sites have concrete ramps.
---
---
Three universally accessible picnic shelters are available at Fort Custer. Two are located at Eagle Lake and one is located at Whitford-Lawler Lake. Contact the park for reservations.

Fire pits/grills available.
Over 25 miles of multi-use trails are open to mountain biking, horseback riding, dog sledding, hiking, cross country skiing, snowmobiling, and hunting. Four distinct loops - Red, Green, Blue, Yellow - offer a variety of terrain and different levels of physical challenge.

Fort Custer-Multi-Purpose Trails Trail Length: 25.00 (Miles)Cross Country Ski, Dog Sledding, Equestrian, Hiking, Mountain Biking
Special events are planned each winter. Contact the park for dates and times of upcoming events.
---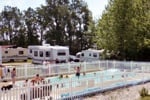 Enjoy Southeast Michigan's Best Family Camping experience at our clean, quiet, friendly campground. Jumping Pillow, WiFi, Paddle Boats, Minigolf, Swimming, Bicycling and more
74.9 miles from park*