FOGARTY CREEK STATE PARK
Where the creek and ocean meet, you?ll find ingredients that make the spirit soar. Discover this park?s perfect wind-sheltered picnic areas. In case of rain, head for the covered picnic shelter. Walk the wooden footbridges arching through the Sitka spruce, western hemlock, shore pine and alder forest. At the cliff-rimmed beach, a lazy creek flows into the sea, cutting through an enchanting scenic ocean cove. This park has some of the best birdwatching and tidepooling on the coast.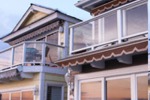 Horizon Rentals has been making coastal dreams a reality by providing superior-quality Oregon Coast Vacation Rentals to coastal adventurers since 1989.
9.5 miles from park*