ERIE NATIONAL WILDLIFE REFUGE
Erie National Wildlife Refuge is located in Crawford County, 35 miles south of the City of Erie and 10 miles east of Meadville on the outskirts of Guys Mills village.

The refuge consists of two separate land units. The Sugar Lake Division, containing 5,206 acres,is the unit closest to Guys Mills. The Seneca Division, containing 3,571 acres, is 10 miles north of the Sugar Lake Division and borders French Creek near Cambridge Springs.

The primary objective of the refuge is to provide waterfowl and other migratory birds with nesting, feeding, brooding, and resting habitat. Other objectives are to provide habitat to support a diversity of wildlife species and to enhance opportunities for wildlife-oriented public recreation and environmental education.

The diverse habitat types found on Erie NWR attract over 237 species of birds, 47 species of mammals and 37 species of amphibians and reptiles. Waterfowl migrations occur from March to early April and again from September to November.
FACILITIES AND ACTIVITIES OVERVIEW
---
Get directions
to this park: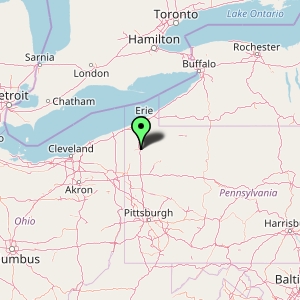 ---
---
Area Campgrounds
Area Fishing Related Businesses
Hansen's Bait Stand
83 Peninsula Dr
Erie, PA
(814) 838-1642


Lake Erie Ultimate Angler
2400 W 8th St
Erie, PA
(814) 456-3035


Smith Bait Stand
34 State St
Erie, PA
(814) 459-4259


Bac Bait & Tackle
4858 W Lake Rd
Erie, PA
(814) 835-0581


Sons Sons of Lake Erie Fishing
PO Box 3605
Erie, PA
(814) 453-2270


Lawrence Park Fishing Club
3702 E Lake Rd
Erie, PA
(814) 898-3477


Hunting & Fishing Club of Crawford County Inc
905 Market St
Meadville, PA
(814) 333-2582


Ben's Bait & Grub
16408 Highway 86
Saegertown, PA
(814) 763-5012


Conneaut Lake Tackle
110 Water St
Conneaut Lake, PA
(814) 382-6095


Maurer's Trading Post
1696 Pittsburgh Rd
Franklin, PA
(814) 437-9570


Bite Me Bait & Tackle
5097 Georgetown Rd
Franklin, PA
(814) 437-6987


Area Resorts and Lodging
Conneaut Lake Resort Rentals
12213 Midway Dr
Conneaut Lake, PA
(814) 382-8414


Lodge on Sass
202 W 9th St
Erie, PA
(814) 452-3600


Fairfield Inn
2082 Interchange Rd
Erie, PA
(814) 868-0985


Residence Inn-Erie
8061 Peach St
Erie, PA
(814) 864-2500


Courtyard-Erie
7792 Peach St
Erie, PA
(814) 860-8300


Cross Creek Resort Inc
3815 State Rt 8
Titusville, PA
(814) 827-9611


Interstate I-79 North to Exit 141; follow attraction signs along Route 285 East to Route 173 North to refuge.

Interstate I-79 South to Exit 154; follow attraction signs along Route 198 to refuge.