DOUBLE TROUBLE STATE PARK
Double Trouble State Park offers an outstanding example of the Pine Barrens ecosystem and a window into the Pine Barrens history. The park provides the protection and interpretation of over 8000 acres of significant natural, cultural, and recreational resources representative of the Pinelands National Reserve.

Its location and resource base afford an opportunity to introduce visitors to southern New Jersey's natural and cultural heritage. Both the natural environment, consisting of a high quality Pinelands watershed, and an extremely well preserved historic village associated with New Jersey cranberry agriculture and Atlantic White Cedar logging and milling industries are available to visitors at Double Trouble State Park.
There are conflicting stories about the naming of Double Trouble. Most of the common legends centered around the dam on Cedar Creek. The earliest story attributes the name to Thomas Potter who coined the words "Double Trouble" after spring rains washed out the dam two times in one season.

A more colorful legend involves local muskrats that persisted in gnawing at the dam, which caused frequent leaks. Such leaks gave rise to the alarm "Here's trouble", upon which workmen would rush to repair the leak. One day two breaks were discovered and one worker overheard the shout "Here's double trouble". Whatever the origin of the name, most sources suggest that the unusual title was born with the start of the cranberry industry.
---
---
The Double Trouble State Park Nature Trail is a 1.5-mile, self-guided, loop trail in which both natural and historical items are delineated and interpreted in the Trail Guide. Trail Guides are available at the trailhead in the historic village.
Double Trouble Historic Village

Originally a cranberry farm and packing plant, the former company town called Double Trouble is a window into past and current industries in the Pinelands. The Double Trouble Company was formed to sell timber, millwork products and cranberries. A succession of sawmills has been on site since the mid-1700s. The village consists of cranberry bogs and fourteen original historic structures dating from the late 19th century through the early 20th century including a general store, a schoolhouse and cottages. The sawmill was restored in 1995, and the cranberry sorting and packing house were completed in 1996.

Cedar Creek

The park features over 8,000 acres of Pine Barrens habitats. From its headwaters in Greenwood Forest Management Area to its mouth at Barnegat Bay, Cedar Creek provides the water required for cranberry culture and supplies a pure source of water for wildlife. The creek is an excellent stream for canoeing and kayaking. Adjacent bogs and uplands provide examples of plants characteristic to the Pine Barrens.
---
Area Campgrounds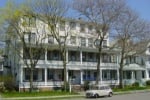 Garden State Parkway South: Take exit 80, turn left off exit ramp, travel south on Double Trouble Road about four miles to stop sign. Park entrance straight ahead across road.

Garden State Parkway North: Take exit 74, turn east on Lacey Road. Make left onto Manchester Boulevard, left again onto Western Boulevard. At stop sign, turn left onto County Route 618 (Veterans Boulevard), proceed west under Garden State Parkway bridge, park entrance on left.