DEVILS LAKE STATE PARK
DEVILS LAKE STATE PARK
Reservations: 541-994-2002
From the south or east on Interstate Highway 90/94, take State Highway 33 west about 15 miles to Baraboo. Turn left (south) on State Highway 123 and go 3 miles to the park.

From the northwest on I-90/94, go right (south) on US Highway 12 about 10 miles to State Highway 159. Turn left (east) on Highway 159 and go about 1 mile to the park.

From the south on US 12, turn right (east) on Highway 159 and go about 1 mile to the park.

From about April through November, the park can be reached via the Merrimac free ferry, State Highway 113 and County Highway DL.
Nearly 100 species of birds, close to half the total in Wisconsin, nest in the park and 880 plant species grow in the park.

Wisconsin's oldest state natural area, Parfrey's Glen, is in the southeast corner of Devil's Lake State Park. It is a special and fragile place with unique plants, animals, and geology. The area is open only from 6 a.m. to 8 p.m. Visitors must stay on the designated trail. Pets, food, beverages, fires, and camping are prohibited. Motor vehicles are not allowed beyond the parking lot off Highway DL
FACILITIES AND ACTIVITIES OVERVIEW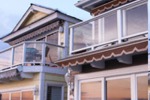 Horizon Rentals has been making coastal dreams a reality by providing superior-quality Oregon Coast Vacation Rentals to coastal adventurers since 1989.
0.5 miles from park*
---
---
There are picnic areas at both ends of the lake. Two enclosed shelters and three open air shelters are available for rental. Reservations are accepted starting the first working day after January 1 each year.
Devil's Lake has 29.9 miles of trails, all of which are open for hiking in spring, summer, and fall. There's a 1-mile interpretive nature trail and 1.5 miles of trail that are accessible for people with disabilities

The park also has 8.0 miles of off-road bike trails. A state trail pass is required for anyone age 16 or older to use the mountain bike trails.

There are no official paved road-bike trails in the park, although many people enjoy riding several miles on all the paved campground roads. A 2-mile paved bicycle trail extends from the park's north shore entrance to the City of Baraboo.

In winter, there are 22.4 miles of cross-country ski trails, with four different loops marked for beginner, moderate, or advanced classic-style skiers, along with a section for skate-skiing. The ski trails start in the Steinke Basin meadow, then wind their way through oak, ash, hickory, and maple forests.
---