COSSATOT RIVER STATE PARK-NATURAL AREA
This park-natural area stretches for 12 miles along the wild and scenic Cossatot River, Arkansas's premier whitewater experience renowned as the best whitewater float stream in mid-America. Located in southwest Arkansas south of Mena, the Cossatot forms Cossatot Falls, a rugged and rocky canyon that challenges the most experienced canoeists and kayakers with its Class IV and V rapids. When the water is high, the paddlers are here. This National Wild and Scenic River is a watershed basin with flow levels dependent on rainfall. After significant precipitation, the river level rises, allowing experienced paddlers the opportunity to test their skills in challenging Class IV and V whitewater. At the river's Cossatot Falls area, a rocky canyon with distinct ledges, the river drops 33 feet in elevation within 1/3 of a mile. Late winter to early spring is peak whitewater paddling season here. Class III-V whitewater is for experts only. Floatable river levels are usually limited to late-fall, winter and spring. For river stage information (in feet) from the Highway 246 access, call (870) 387-3141 or visit the U.S. Geological Survey website for Cossatot River real time data at: waterdata.usgs.gov/nwis/uv?07340300.

When the water level is normal, the river's rapids are usually considered Class II-III whitewater. Outdoor enthusiasts can swim, fish and float through riffles and small rapids, from pool to pool, as they relax and enjoy the Cossatot.


---
Get directions
to this park: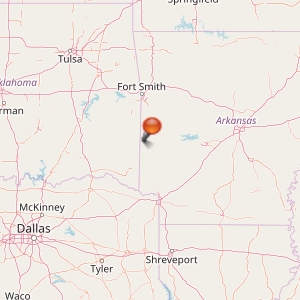 ---
For hiking enthusiasts, the park features the 14-mile River Corridor Trail and the 3.5-mile Harris Creek Trail.


---
Offering luxury log cabin lodging near Beavers Bend Resort Park and Broken Bow Lake in Broken Bow, Oklahoma, the areas top vacation playground. The perfect destination for summer vacations and weekend getaways and our cabins offer all the luxuries you would find at a top flight resort..
37.1 miles from park*
Cossatot River State Park-Natural Area is located south of Mena. The northern route to the park is via Ark. 246 between Vandervoort and Athens. The southern route is via U.S. 278 between Wickes and Umpire. Weyerhaeuser Company roads provide river access.