CAPE MAY POINT STATE PARK
CAPE MAY POINT STATE PARK
P O Box 107
Cape May Point, New Jersey   08212
Phone: 609-884-2159
Cape May Point State Park is a day-use park, open from dawn to dusk. The park has a beach wheel chair available to the public. Although Cape May Lighthouse is a major attraction for many visitors to the area, the park?s constantly changing shoreline, dunes, freshwater coastal marsh and ponds, forested islands and varied uplands make it a well-known location for viewing the fall bird migration. Located on the southern tip of New Jersey, Cape May Point State Park is a key site on the NJ Coastal Heritage Trail, with an environmental center that houses a classroom for interpretive programs and a museum on the area's natural and historic features.
Cape May Point Natural Area (153 acres)

Several blazed trails lead visitors to various pond, coastal dune, marsh and forest habitats of the park where wildlife can be viewed from observation platforms. This natural area is significant along the East Coast for its resident and migratory birds and includes habitat suitable for northern and southern species of fauna and flora.

Birding

The tip of Cape May is one of the most popular sites in North America for viewing the fall bird migration. Many species of birds can be seen in the natural areas throughout the year.Migrations

Cape May Point is known as a major migratory route. Many sea/shore birds and songbirds migrate through this area in the spring. At the end of the summer, Dragonflies and Monarch Butterflies migrate through the area stopping briefly to gain their strength before continuing their journey across the Delaware Bay. Cape May also hosts the annual migration of the Horseshoe Crab along the Delaware Bay, where they come ashore to lay their eggs. These protein rich eggs are an important food source for Ruddy Turnstones, and Red Knots. Cape May is viewed by many as the premier Hawk migration route of North America. In the fall hundreds of hawks are counted as they pass the narrow corridor of land along the Cape May peninsula heading south. This offers birdwatchers of all ages the opportunity to see these beautiful birds in flight as they soar across the fields and meadows, on their southward trek across the Delaware Bay.
---
Get directions
to this park: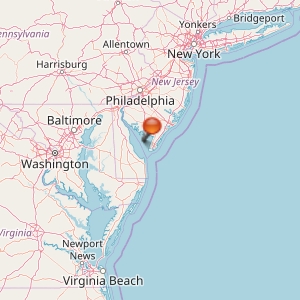 ---
The Red Trail is .5 miles, and is wheel chair accessible. This trail offers hikers access to both the lighthouse pond west and east. Each pond has a blind or platform at the water's edge to view wading birds, ducks, swans, as well as the occasional osprey, which come to rely on these freshwater ponds for food and habitat for breeding.

The Yellow Trail is 1.5 miles long. This trail offers hikers the opportunity to see different habitats, including wetland marsh, coastal dune and the beach.

The Blue Trail is 2.0 miles long. Just as the yellow trail, this trail offers hikers a myriad of habitats in which to view flora and fauna found here at the park. The blue trail offers a longer hike along the beach and coastal dune. Both the yellow and blue trails allow hikers the opportunity to view shore birds, as well as view other wildlife along the shore.
* Cape May Lighthouse * Interpretive Center/Visitors Center * Trails * Fishing: Surf Fishing * Picnicking: tables & shelters * Birding: Guided bird walks (late spring into early fall) * Migrations * Museum * WWII Bunker * Hawk Banding Demonstration * Nature study * Guided nature walks (late spring into fall) * Children's nature clubs/programs (summer) * Children's programs (call for schedule of events)

Cape May Lighthouse

The 157-foot-high lighthouse is still an aid to navigation. Visitors who climb the 199 steps to the top of the lighthouse are rewarded with a spectacular panoramic view of the scenic Cape May peninsula. The first known lighthouse at Cape May was built in 1823. By 1847 a new lighthouse was erected on a high bluff, however, due to the encroaching sea and poor building design it was eventually dismantled. Built in 1859, the current lighthouse used the original bricks of the 1847 lighthouse. For information on tours and hours of operation call: The Mid Atlantic Center for the Arts at (609) 884-5404.

World War II Bunker

Built as part of the Harbor Defense Project of 1942. The park was once a Military base, of which the Bunker was a part. At low tide you can still see the gun turrets at the front of the bunker. The Bunker was once 900 feet inland, surrounded by earth and covered by sod, it once looked as if it were a hill from the sea or air. The bunker historically represents a moment in history, and stands as a monument to all those, who in times of war, have come to find ways to protect this country from enemy attack.

Hawk Banding Demonstrations

The Raptor Banding Project conducts Hawk-banding demonstrations at the park on Saturdays and Sundays at 10:00 am from mid-September through October. Various species of hawks can be viewed at close range before they are released to continue their annual southward migration.
---
Area Campgrounds
Beachcomber Camping Resort
462 Seashore Road
Cape May, NJ



Cape Island Resort
709 Route 9
Cape May, NJ
609-884-5777


Holly Shores Camping Resort
491 Route 9
Cape May, NJ



Lake Laurie Campground
669 Route 9
Cape May, NJ
609-884-3567


Seashore Campsites
720 Seashore Road
Cape May, NJ
609-884-4010


Adventure Bound Camping Resorts - Cape May
240 West Shellbay Avenue
Cape May Court House, NJ



King Nummy Trail Campground
205 Route 47 South
Cape May Court House, NJ
609-465-4242


Shellbay Campground
227 West Shellbay Avenue
Cape May Court House, NJ
609-465-4770


Acorn Campground
Route 47 South
Green Creek, NJ
609-886-7119


Depot Travel Park
800 Broadway
West Cape May, NJ
609-884-2533


The park is located off the southern end of the Garden State Parkway. Cross over Cape May Bridge onto Lafayette Street, Cape May. At the intersection, bear right onto County Route 606 (Sunset Boulevard), then left onto Lighthouse Avenue. From Route 9, take County Route 626, Seashore Road and cross the bridge. Follow directions as above.