BURT LAKE STATE PARK
BURT LAKE STATE PARK
6635 State Park Dr.
Indian River, Michigan   49749
Phone: 231-238-9392
Reservations: 800-447-2757
Burt Lake State Park is located at the heart of the inland waterway, where Burt Lake and the Sturgeon River converge. The park consists of about 400 acres which include 306 modern campsites with 4 toilet/shower buildings, a day use area with beach for swimming or shoreline fishing, rentable picnic shelter, a youth organizational campground. The campground is closed November through April. An overlook tower and picnic area, and a boat launch with a skid pier and car/trailer parking. One mile hiking trail is marked within the park. No bicycles, horses, or motorized vehicles allowed on the trail. Cross-County ski trails are non-groomed.
FACILITIES AND ACTIVITIES OVERVIEW
Burt Lake-Group Use Area(231) 238-9392Group Use Area, Rustic Site, Vault Toilet

Burt Lake-Modern(800) 447-2757306 site(s)Electrical Service, Mini Cabin, Modern Restrooms
July 4
4th of July Bike Parade
Campers are invited to our Annual 4th of July Bike Parade. Participants should begin bring their decorated bicycles, wagons, strollers and shoes to the campground host site at 10:00 a.m. The parade will start promptly at 10:30 a.m. Park staff will lead the parade through a portion of the campground. Refreshments will be served after the parade at the campground host site. All ages are welcome. Vehicle traffic will be stopped along the parade route for the safety of our visitors.

For more information call 231-238-9392.
August 11
Meteors and S'mores
Come to Burt Lake State Park
August 28
Recreation 202: Intro to Walleye Fishing in Michigan
Join Captain Ken Clark of Fishmas Charters from Whitehall, Michigan at Burt Lake State Park.
Boat Launch

Burt Lake is at the heart of the Inland Waterway, a series of navigable rivers and lakes that stretch for 38 miles from Crooked Lake to Lake Huron.
Shoreline fishing is available on the northern boundry of the park along the Sturgeon River. Walleye, trout, bass, bluegill, perch, pike and other species of pan fish can be found in Burt Lake.
---
---
Picnic tables and fire pits/grills.

One picnic shelter for rent. For reservations contact the park.
A one-mile hiking trail is marked within the park. No bicycles, horses or motorized vehicles are allowed on this trail.

Burt Lake-Foot Trail Trail Length: 1.00 (Miles)Cross Country Ski, Hiking

Burt Lake-Inland Waterway Trail Length: 38.00 (Miles)Boat Launch, Swimming, Vault Toilet
The world's largest "Cross in the Woods" is located near the park. Historic Mackinaw City and Mackinac Island are about 30 miles north on I-75. Hiking, cross-country skiing, ORV and snowmobiling trails are located nearby, along with many golf courses and restaurants.
---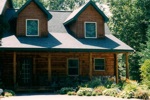 We are about 10 miles west of Mackinaw City. One Mile Past the Wilderness State camp grounds. You will find miles of prestine beaches, no noise except the sounds of nature.You can hike the miles of wonderful hiking trails.
24.2 miles from park*
From I 75 take exit 310 turn left on M-68, then left at light onto Old 27 Hwy. Park is 1/2 mile South on right side.