BIG BONE LICK STATE HISTORIC SITE
During the Pleistocene Epoch, over 15-thousand years ago, a huge ice sheet covered the ground all the way from Canada down to the Ohio River. On the edges of this ice sheet, great herds of giant mastodons, wooly mammoths and ground sloths were attracted to the warm salt springs that still bubble from the earth at Big Bone Lick State Park.

The salty marsh that attracted these prehistoric visitors sometimes proved to be a fatal attraction. Animals became trapped and perished in what the early pioneers called "jelly ground," leaving skeletons and interesting clues about life in prehistoric Kentucky.

The fossilized remains of these prehistoric animals were discovered in 1739 and displayed extensively at museums throughout the world. Notable Americans such as Thomas Jefferson and Benjamin Franklin personally examined the fossils, many of which are on display today at Big Bone Lick Museum. The scientific community recognizes the site as the "Birthplace of American Vertebrate Paleontology."
FACILITIES AND ACTIVITIES OVERVIEW
Camping
Water/Electric Sites
yes
Spacious campground features 62 campsites with utility hookups, grills, a swimming pool and playground. Showers, rest rooms, and laundry facilities are available at a central service building. Campground grocery on-site.

Pets are allowed if restrained. Campground open Year-Round. Campground grocery open April 1-October 31.
June 1 - June 29
Archaeology Field School Observation
During the month of June, Dr. Ken Tankersley from the University of Cincinnati and his students will be conducting paleontological fieldwork at Big Bone Lick. Join park staff for a visit to the work site and a chance to see paleontology in action. Work days are Monday, Wednesday and Friday from 8am to 2pm. Staff led hikes to the site will be held daily on work days. Please contact Ossana Wolff, Park Interpreter, for more information at 859-384-3522 or ossana.wolff@ky.gov.
June 26
Tour the Stars
9:00 P.M. - 10:30 P.M.
June 27
Solar Observation
10:00 A.M. - 11:30 A.M.
August 8
Fishing Derby
9:30 A.M. - 1:00 P.M.
Kentucky Fish
---
---
Nearly 40 acres of picnic grounds with tables, grills and a playground are ideal for family outings. The two picnic shelters have tables, grills, water and electric, and may be reserved for rental up to one year in advance.
Gift ShopA gift shop adjoins the museum and features Kentucky handcrafts and souvenirs of all types. The gift shop will be closed February and March.

Learn the history of Big Bone Lick in our brand new museum with displays of fossilized bones and artifacts from the last 18,000 years. Open year round.

Outdoor Museum - Discovery TrailThe new Discovery Trail addition to the Outdoor Museum at Big Bone Lick gives visitors a glimpse of the drama that unfolded at the springs in pre-history.

Recreated grasslands, wetlands and wooded savannas lie along the trail leading to a "bog" diorama. Shown going into or struggling inside the marsh bog are a woolly mammoth, a mastodon, a giant sloth, bison, various skeletal remains, and scavengers feeding on the carcasses. Visitors approach the diorama on a boardwalk that rises above the floor of the marsh, enabling them to "look history in the eye." An amphiteater upslope from the diorama can be used as an outdoor classroom. The diorama and the Discovery Trail are sited to provide the physically challenged visitors with the opportunity to experience the varied grassland, wetland and savanna environments and the bog diorama.

The outdoor museum continues for a mile past the entrance to the Discovery trail. The paved Big Bone Creek Trail wanders through the original swampland, now growing wild with brush and flowers, and the last remaining salt-sulphur spring. The final portion of the loop, the Bison Trace, brings a live buffalo herd into view. Year-round.

Buffalo Herd: The American buffalo, or bison, is the largest of all North American land mammals. Great buffalo herds once roamed this area and provided food, clothing and shelter for the Indians and pioneers. Hunted to near extinction, the last wild buffalo was seen in Kentucky around 1800. The park?s herd is an effort to reestablish these animals at Big Bone Lick.
---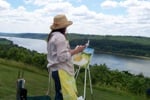 Crawford County consists of over 306 square miles of beauty and outdoor recreation Caves, state parks, rugged terrain, acres of protected forests, nature preserves, and numerous waterways
87.5 miles from park*
The park is located 22 miles southwest of Covington on KY 338, off US 42 - 127 and I-71 / I-75. Here is an area map.