DR. EDMUND A. BABLER MEMORIAL STATE PARK
A massive stone gateway greets visitors to Dr. Edmund A. Babler Memorial State Park, framing the broad avenue that leads up the hill to the large bronze statue of Dr. Edmund A. Babler, the park's namesake. Jacob L. Babler's love of nature and his desire to commemorate his brother, a prominent St. Louis surgeon, came together to create this unique gift to the people of Missouri.

Here, memories are created -- afternoons of softball or volleyball, or of cooking on an open grill. Thirteen miles of hiking trails ensure a variety of rewarding outdoor experiences. A visitor center with exhibits illustrates the wonders of the park's natural communities; classrooms and an auditorium are available for special programs.

The park also provides experiences for those with special needs at the Jacob L. Babler Outdoor Education Center, a barrier-free resident camp with cabins and recreation and dining halls.

You can have it both ways at Babler State Park -- spend a peaceful night camping under the stars, and still be only minutes from downtown St. Louis.
Babler State Park Campground Information:

Dr. Edmund A. Babler Memorial State Park offers basic and electric campsites, group camping and special-use camping areas. Services available include reservable campsites, a dump station, showers and water.

For reservations, there is a required two-night minimum stay for weekends and major holidays from May 15 through Sept.
Two meeting rooms are available for rent at the park?s visitor center.

The Gallery has a capacity of 50 people and can be rented for $75 per day or $25 per hour. The room is equipped with tables and chairs.

The Owls Eye Theater is an auditorium with a capacity of 82 people with chairs only. Chairs cannot be moved around and must stay in the original theater-style setup. The auditorium includes 82 chairs, a podium, stage, large built in screen, two television sets with videocassette recorders (VCRs), and an audio/visual room. The rental fee is $100 per day or $25 per hour.

We strongly encourage each group leader to visit the park to see if it will adequately accommodate your group. If you have any questions, call (636) 458-3813.
---
Get directions
to this park:


---
There are three large picnic shelters and over 200 picnic sites scattered throughout the park for visitors to enjoy.

The shelters, Cochran, Alta and Walnut Grove, make a great venue for family gatherings or special outings, and may be reserved at a rate of $40 per day. If not reserved, the shelters may be used on a first-come, first-served basis. Cochran Shelter?s capacity is approximately 70 occupants and it is equipped with a fireplace. Alta Shelter, the largest of the three, can occupy up to 130 people, and has three fireplaces and two barbecue grills. Walnut Grove Shelter will hold up to 56 people and has a barbecue grill.

All three of the shelters are equipped with picnic tables, and have water and restroom facilities nearby. There is no electricity available in the shelters.
Park naturalists present interpretive programs on Friday and Saturday nights, June through August, in the campground amphitheater. Check at the visitor center for times and subject matter.fffff The Junior Naturalist Award Program is available to all who are interested, regardless of age.

Local schools maff
---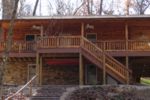 Carry On Inn is a log cabin in Sullivan, Missouri. It is the place where you can leave behind your concrete, traffic and pollution, your busy schedules, stresses, worries and cares and just relax and find peace in these beautiful scenic surroundings.
15.2 miles from park*
From Eureka : From I-44, take Exit 264 onto Hwy. 109. Travel north eight miles to Route BA. Turn left and continue two miles; the park entrance is on the left.

From St. Louis : From I-270, turn west onto U.S. Hwy. 40/64 and travel for 9.5 miles to the Long Road exit. Turn left onto Long Road and travel one mile to Wild Horse Creek Road. Turn right onto Wild Horse Creek Road and continue three miles to the Hwy. 109 stop sign. Turn left and travel less than one mile to Route BA; turn right and continue for 1.5 miles to the park entrance.

From St. Charles County: Travel east on U.S. Hwy. 40 to Chesterfield Airport Road (just after crossing the Missouri River bridge). Continue for two miles to Long Road and turn right. Travel one mile to Wild Horse Creek Road, turn right and continue to the Hwy. 109 stop sign. Turn left and travel less than one mile to Route BA; turn right and continue 1.5 miles to the park entrance.